Leicester are level! Castagne bullies Ryan Sessegnon out on the right flank and gets a cross in. James Maddison gets to the ball in front of Dier, hooking the ball over the defender and into the back of the Spurs net.

","elementId":"3cc28107-5a07-4eb1-9fd9-32241696d73e"}],"attributes":{"pinned":false,"keyEvent":true,"summary":false},"blockCreatedOn":1663434643000,"blockCreatedOnDisplay":"13.10 EDT","blockLastUpdated":1663434790000,"blockLastUpdatedDisplay":"13.13 EDT","blockFirstPublished":1663434790000,"blockFirstPublishedDisplay":"13.13 EDT","blockFirstPublishedDisplayNoTimezone":"13.13″,"title":"GOAL: Tottenam Hotspur 2-2 Leicester City","contributors":[],"primaryDateLine":"Sat 17 Sep 2022 13.13 EDT","secondaryDateLine":"First published on Sat 17 Sep 2022 11.28 EDT"},{"id":"6325fafa8f083f878e70f67b","elements":[{"_type":"model.dotcomrendering.pageElements.TextBlockElement","html":"

Leicester concede from another corner! Ivan Perisic whips the ball into the penalty area, where Eric Dier uses the pace of the ball to guide a near post header in at the far post.

","elementId":"68f5e3f0-87b3-4802-9ce3-8c2dc00f20b7″},{"_type":"model.dotcomrendering.pageElements.ImageBlockElement","media":{"allImages":[{"index":0,"fields":{"height":"2620″,"width":"3930″},"mediaType":"Image","mimeType":"image/jpeg","url":"https://media.guim.co.uk/efe7a77015e7317478cf4e92c4d3c28f0de72acd/0_0_3930_2620/3930.jpg"},{"index":1,"fields":{"isMaster":"true","height":"2620″,"width":"3930″},"mediaType":"Image","mimeType":"image/jpeg","url":"https://media.guim.co.uk/efe7a77015e7317478cf4e92c4d3c28f0de72acd/0_0_3930_2620/master/3930.jpg"},{"index":2,"fields":{"height":"1333″,"width":"2000″},"mediaType":"Image","mimeType":"image/jpeg","url":"https://media.guim.co.uk/efe7a77015e7317478cf4e92c4d3c28f0de72acd/0_0_3930_2620/2000.jpg"},{"index":3,"fields":{"height":"667″,"width":"1000″},"mediaType":"Image","mimeType":"image/jpeg","url":"https://media.guim.co.uk/efe7a77015e7317478cf4e92c4d3c28f0de72acd/0_0_3930_2620/1000.jpg"},{"index":4,"fields":{"height":"333″,"width":"500″},"mediaType":"Image","mimeType":"image/jpeg","url":"https://media.guim.co.uk/efe7a77015e7317478cf4e92c4d3c28f0de72acd/0_0_3930_2620/500.jpg"},{"index":5,"fields":{"height":"93″,"width":"140″},"mediaType":"Image","mimeType":"image/jpeg","url":"https://media.guim.co.uk/efe7a77015e7317478cf4e92c4d3c28f0de72acd/0_0_3930_2620/140.jpg"}]},"data":{"alt":"Eric Dier gets his head to a corner to give Spurs the lead.","caption":"Eric Dier gets his head to a corner to give Spurs the lead.","credit":"Photograph: Ryan Pierse/Getty Images"},"displayCredit":true,"role":"inline","imageSources":[{"weighting":"inline","srcSet":[{"src":"https://i.guim.co.uk/img/media/efe7a77015e7317478cf4e92c4d3c28f0de72acd/0_0_3930_2620/master/3930.jpg?width=620&quality=85&auto=format&fit=max&s=f0ca055f424491e89fd65efc00a1afd1″,"width":620},{"src":"https://i.guim.co.uk/img/media/efe7a77015e7317478cf4e92c4d3c28f0de72acd/0_0_3930_2620/master/3930.jpg?width=620&quality=45&auto=format&fit=max&dpr=2&s=7f6f02366e0eb258654e6a4100463014″,"width":1240},{"src":"https://i.guim.co.uk/img/media/efe7a77015e7317478cf4e92c4d3c28f0de72acd/0_0_3930_2620/master/3930.jpg?width=605&quality=85&auto=format&fit=max&s=d3cee92986da692cb937f0c5532034fe","width":605},{"src":"https://i.guim.co.uk/img/media/efe7a77015e7317478cf4e92c4d3c28f0de72acd/0_0_3930_2620/master/3930.jpg?width=605&quality=45&auto=format&fit=max&dpr=2&s=44e6cad2e1f16655d48dc7c0bcaaa0a3″,"width":1210},{"src":"https://i.guim.co.uk/img/media/efe7a77015e7317478cf4e92c4d3c28f0de72acd/0_0_3930_2620/master/3930.jpg?width=445&quality=85&auto=format&fit=max&s=a7bf2a4a45f979b8c440562535b4da54″,"width":445},{"src":"https://i.guim.co.uk/img/media/efe7a77015e7317478cf4e92c4d3c28f0de72acd/0_0_3930_2620/master/3930.jpg?width=445&quality=45&auto=format&fit=max&dpr=2&s=852d508cef079777b9b6bcd62fa3e069″,"width":890}]},{"weighting":"thumbnail","srcSet":[{"src":"https://i.guim.co.uk/img/media/efe7a77015e7317478cf4e92c4d3c28f0de72acd/0_0_3930_2620/master/3930.jpg?width=140&quality=85&auto=format&fit=max&s=a9e7abaf2b5c786502e7fb2e52ed0795″,"width":140},{"src":"https://i.guim.co.uk/img/media/efe7a77015e7317478cf4e92c4d3c28f0de72acd/0_0_3930_2620/master/3930.jpg?width=140&quality=45&auto=format&fit=max&dpr=2&s=18ec3812d05af160dca9c22aeca57f91″,"width":280},{"src":"https://i.guim.co.uk/img/media/efe7a77015e7317478cf4e92c4d3c28f0de72acd/0_0_3930_2620/master/3930.jpg?width=120&quality=85&auto=format&fit=max&s=10b94b99bf82f69b63ba9aab45e356ac","width":120},{"src":"https://i.guim.co.uk/img/media/efe7a77015e7317478cf4e92c4d3c28f0de72acd/0_0_3930_2620/master/3930.jpg?width=120&quality=45&auto=format&fit=max&dpr=2&s=cb9395863a2ad94ef1d94fd505cf443e","width":240}]},{"weighting":"supporting","srcSet":[{"src":"https://i.guim.co.uk/img/media/efe7a77015e7317478cf4e92c4d3c28f0de72acd/0_0_3930_2620/master/3930.jpg?width=380&quality=85&auto=format&fit=max&s=21bb78d95f5a7a951bc1a45becf0ee2b","width":380},{"src":"https://i.guim.co.uk/img/media/efe7a77015e7317478cf4e92c4d3c28f0de72acd/0_0_3930_2620/master/3930.jpg?width=380&quality=45&auto=format&fit=max&dpr=2&s=0532e4129f19b7677ad1dfb2901ca0a9″,"width":760},{"src":"https://i.guim.co.uk/img/media/efe7a77015e7317478cf4e92c4d3c28f0de72acd/0_0_3930_2620/master/3930.jpg?width=300&quality=85&auto=format&fit=max&s=fefd616b0783e5d941f637a66da2d31d","width":300},{"src":"https://i.guim.co.uk/img/media/efe7a77015e7317478cf4e92c4d3c28f0de72acd/0_0_3930_2620/master/3930.jpg?width=300&quality=45&auto=format&fit=max&dpr=2&s=cd3e48a8240d34b954b014bc64bb031c","width":600},{"src":"https://i.guim.co.uk/img/media/efe7a77015e7317478cf4e92c4d3c28f0de72acd/0_0_3930_2620/master/3930.jpg?width=620&quality=85&auto=format&fit=max&s=f0ca055f424491e89fd65efc00a1afd1″,"width":620},{"src":"https://i.guim.co.uk/img/media/efe7a77015e7317478cf4e92c4d3c28f0de72acd/0_0_3930_2620/master/3930.jpg?width=620&quality=45&auto=format&fit=max&dpr=2&s=7f6f02366e0eb258654e6a4100463014″,"width":1240},{"src":"https://i.guim.co.uk/img/media/efe7a77015e7317478cf4e92c4d3c28f0de72acd/0_0_3930_2620/master/3930.jpg?width=605&quality=85&auto=format&fit=max&s=d3cee92986da692cb937f0c5532034fe","width":605},{"src":"https://i.guim.co.uk/img/media/efe7a77015e7317478cf4e92c4d3c28f0de72acd/0_0_3930_2620/master/3930.jpg?width=605&quality=45&auto=format&fit=max&dpr=2&s=44e6cad2e1f16655d48dc7c0bcaaa0a3″,"width":1210},{"src":"https://i.guim.co.uk/img/media/efe7a77015e7317478cf4e92c4d3c28f0de72acd/0_0_3930_2620/master/3930.jpg?width=445&quality=85&auto=format&fit=max&s=a7bf2a4a45f979b8c440562535b4da54″,"width":445},{"src":"https://i.guim.co.uk/img/media/efe7a77015e7317478cf4e92c4d3c28f0de72acd/0_0_3930_2620/master/3930.jpg?width=445&quality=45&auto=format&fit=max&dpr=2&s=852d508cef079777b9b6bcd62fa3e069″,"width":890}]},{"weighting":"showcase","srcSet":[{"src":"https://i.guim.co.uk/img/media/efe7a77015e7317478cf4e92c4d3c28f0de72acd/0_0_3930_2620/master/3930.jpg?width=860&quality=85&auto=format&fit=max&s=ad150be8f6689ed58bd74a6ce09c4dd0″,"width":860},{"src":"https://i.guim.co.uk/img/media/efe7a77015e7317478cf4e92c4d3c28f0de72acd/0_0_3930_2620/master/3930.jpg?width=860&quality=45&auto=format&fit=max&dpr=2&s=b6a5cf8a4beb526b1d8a26d702bd82da","width":1720},{"src":"https://i.guim.co.uk/img/media/efe7a77015e7317478cf4e92c4d3c28f0de72acd/0_0_3930_2620/master/3930.jpg?width=780&quality=85&auto=format&fit=max&s=8fbe4938c60e9b73ae3d319216cdf0e9″,"width":780},{"src":"https://i.guim.co.uk/img/media/efe7a77015e7317478cf4e92c4d3c28f0de72acd/0_0_3930_2620/master/3930.jpg?width=780&quality=45&auto=format&fit=max&dpr=2&s=46b485fefc152e3f9639405cb209e32b","width":1560},{"src":"https://i.guim.co.uk/img/media/efe7a77015e7317478cf4e92c4d3c28f0de72acd/0_0_3930_2620/master/3930.jpg?width=620&quality=85&auto=format&fit=max&s=f0ca055f424491e89fd65efc00a1afd1″,"width":620},{"src":"https://i.guim.co.uk/img/media/efe7a77015e7317478cf4e92c4d3c28f0de72acd/0_0_3930_2620/master/3930.jpg?width=620&quality=45&auto=format&fit=max&dpr=2&s=7f6f02366e0eb258654e6a4100463014″,"width":1240},{"src":"https://i.guim.co.uk/img/media/efe7a77015e7317478cf4e92c4d3c28f0de72acd/0_0_3930_2620/master/3930.jpg?width=605&quality=85&auto=format&fit=max&s=d3cee92986da692cb937f0c5532034fe","width":605},{"src":"https://i.guim.co.uk/img/media/efe7a77015e7317478cf4e92c4d3c28f0de72acd/0_0_3930_2620/master/3930.jpg?width=605&quality=45&auto=format&fit=max&dpr=2&s=44e6cad2e1f16655d48dc7c0bcaaa0a3″,"width":1210},{"src":"https://i.guim.co.uk/img/media/efe7a77015e7317478cf4e92c4d3c28f0de72acd/0_0_3930_2620/master/3930.jpg?width=445&quality=85&auto=format&fit=max&s=a7bf2a4a45f979b8c440562535b4da54″,"width":445},{"src":"https://i.guim.co.uk/img/media/efe7a77015e7317478cf4e92c4d3c28f0de72acd/0_0_3930_2620/master/3930.jpg?width=445&quality=45&auto=format&fit=max&dpr=2&s=852d508cef079777b9b6bcd62fa3e069″,"width":890}]},{"weighting":"halfwidth","srcSet":[{"src":"https://i.guim.co.uk/img/media/efe7a77015e7317478cf4e92c4d3c28f0de72acd/0_0_3930_2620/master/3930.jpg?width=620&quality=85&auto=format&fit=max&s=f0ca055f424491e89fd65efc00a1afd1″,"width":620},{"src":"https://i.guim.co.uk/img/media/efe7a77015e7317478cf4e92c4d3c28f0de72acd/0_0_3930_2620/master/3930.jpg?width=620&quality=45&auto=format&fit=max&dpr=2&s=7f6f02366e0eb258654e6a4100463014″,"width":1240},{"src":"https://i.guim.co.uk/img/media/efe7a77015e7317478cf4e92c4d3c28f0de72acd/0_0_3930_2620/master/3930.jpg?width=605&quality=85&auto=format&fit=max&s=d3cee92986da692cb937f0c5532034fe","width":605},{"src":"https://i.guim.co.uk/img/media/efe7a77015e7317478cf4e92c4d3c28f0de72acd/0_0_3930_2620/master/3930.jpg?width=605&quality=45&auto=format&fit=max&dpr=2&s=44e6cad2e1f16655d48dc7c0bcaaa0a3″,"width":1210},{"src":"https://i.guim.co.uk/img/media/efe7a77015e7317478cf4e92c4d3c28f0de72acd/0_0_3930_2620/master/3930.jpg?width=445&quality=85&auto=format&fit=max&s=a7bf2a4a45f979b8c440562535b4da54″,"width":445},{"src":"https://i.guim.co.uk/img/media/efe7a77015e7317478cf4e92c4d3c28f0de72acd/0_0_3930_2620/master/3930.jpg?width=445&quality=45&auto=format&fit=max&dpr=2&s=852d508cef079777b9b6bcd62fa3e069″,"width":890}]},{"weighting":"immersive","srcSet":[{"src":"https://i.guim.co.uk/img/media/efe7a77015e7317478cf4e92c4d3c28f0de72acd/0_0_3930_2620/master/3930.jpg?width=1900&quality=85&auto=format&fit=max&s=418ec318739f9e48a08e1b8cc722cbc4″,"width":1900},{"src":"https://i.guim.co.uk/img/media/efe7a77015e7317478cf4e92c4d3c28f0de72acd/0_0_3930_2620/master/3930.jpg?width=1900&quality=45&auto=format&fit=max&dpr=2&s=535389366c7c69a7b1c20f0545fb7d1a","width":3800},{"src":"https://i.guim.co.uk/img/media/efe7a77015e7317478cf4e92c4d3c28f0de72acd/0_0_3930_2620/master/3930.jpg?width=1300&quality=85&auto=format&fit=max&s=9811e85fe1e3ce647e28accf8cfaac4e","width":1300},{"src":"https://i.guim.co.uk/img/media/efe7a77015e7317478cf4e92c4d3c28f0de72acd/0_0_3930_2620/master/3930.jpg?width=1300&quality=45&auto=format&fit=max&dpr=2&s=d40fb5ac545d04d89ca014f5d2c7dfcd","width":2600},{"src":"https://i.guim.co.uk/img/media/efe7a77015e7317478cf4e92c4d3c28f0de72acd/0_0_3930_2620/master/3930.jpg?width=1140&quality=85&auto=format&fit=max&s=b0695beebf54c65ab2b06026e6e402f0″,"width":1140},{"src":"https://i.guim.co.uk/img/media/efe7a77015e7317478cf4e92c4d3c28f0de72acd/0_0_3930_2620/master/3930.jpg?width=1140&quality=45&auto=format&fit=max&dpr=2&s=4491e0fbf6790218de774efd8b1d94ff","width":2280},{"src":"https://i.guim.co.uk/img/media/efe7a77015e7317478cf4e92c4d3c28f0de72acd/0_0_3930_2620/master/3930.jpg?width=980&quality=85&auto=format&fit=max&s=eeae9d203d8d8e8cc1a0fc689a92f4f4″,"width":980},{"src":"https://i.guim.co.uk/img/media/efe7a77015e7317478cf4e92c4d3c28f0de72acd/0_0_3930_2620/master/3930.jpg?width=980&quality=45&auto=format&fit=max&dpr=2&s=6e74c1454361b013e5bc2c0e83d06e77″,"width":1960},{"src":"https://i.guim.co.uk/img/media/efe7a77015e7317478cf4e92c4d3c28f0de72acd/0_0_3930_2620/master/3930.jpg?width=740&quality=85&auto=format&fit=max&s=f5b7d4c01077eb3443d4b7f6d6c5cc44″,"width":740},{"src":"https://i.guim.co.uk/img/media/efe7a77015e7317478cf4e92c4d3c28f0de72acd/0_0_3930_2620/master/3930.jpg?width=740&quality=45&auto=format&fit=max&dpr=2&s=a8939d9d01545ec0c7f3b59c8d554fc0″,"width":1480},{"src":"https://i.guim.co.uk/img/media/efe7a77015e7317478cf4e92c4d3c28f0de72acd/0_0_3930_2620/master/3930.jpg?width=660&quality=85&auto=format&fit=max&s=de5204af52ad6db7fdbc590d1ff5a492″,"width":660},{"src":"https://i.guim.co.uk/img/media/efe7a77015e7317478cf4e92c4d3c28f0de72acd/0_0_3930_2620/master/3930.jpg?width=660&quality=45&auto=format&fit=max&dpr=2&s=adc3026b21a46eeaea06b12e94f709bc","width":1320},{"src":"https://i.guim.co.uk/img/media/efe7a77015e7317478cf4e92c4d3c28f0de72acd/0_0_3930_2620/master/3930.jpg?width=480&quality=85&auto=format&fit=max&s=acbee915b3834694c48e6079f794d623″,"width":480},{"src":"https://i.guim.co.uk/img/media/efe7a77015e7317478cf4e92c4d3c28f0de72acd/0_0_3930_2620/master/3930.jpg?width=480&quality=45&auto=format&fit=max&dpr=2&s=e0df3b327241f193980b49c5942ce7b1″,"width":960}]}],"elementId":"e089f7e6-b19c-4da3-a604-79182ce1e5ca"}],"attributes":{"pinned":false,"keyEvent":true,"summary":false},"blockCreatedOn":1663433466000,"blockCreatedOnDisplay":"12.51 EDT","blockLastUpdated":1663434000000,"blockLastUpdatedDisplay":"13.00 EDT","blockFirstPublished":1663433555000,"blockFirstPublishedDisplay":"12.52 EDT","blockFirstPublishedDisplayNoTimezone":"12.52″,"title":"GOAL! Tottenham 2-1 Leicester City (Dier 22)","contributors":[],"primaryDateLine":"Sat 17 Sep 2022 13.13 EDT","secondaryDateLine":"First published on Sat 17 Sep 2022 11.28 EDT"},{"id":"6325f8028f0836766296e11f","elements":[{"_type":"model.dotcomrendering.pageElements.TextBlockElement","html":"

Spurs are level! Harry Kane gives Timothy Castagne the slip at the far post as Spurs take a short corner. The cross comes in and he heads home from about two yards out. That's a terribly soft goal for Leicester to concede but it's no surprise as they are hopeless at defending set pieces.

","elementId":"ffb442b2-ee1c-46d5-a409-5d64bc6e5ea5″},{"_type":"model.dotcomrendering.pageElements.ImageBlockElement","media":{"allImages":[{"index":0,"fields":{"height":"1978″,"width":"3500″},"mediaType":"Image","mimeType":"image/jpeg","url":"https://media.guim.co.uk/5babe6412a53a625227c4bda9d29e0232ebeb1e9/0_0_3500_1978/3500.jpg"},{"index":1,"fields":{"isMaster":"true","height":"1978″,"width":"3500″},"mediaType":"Image","mimeType":"image/jpeg","url":"https://media.guim.co.uk/5babe6412a53a625227c4bda9d29e0232ebeb1e9/0_0_3500_1978/master/3500.jpg"},{"index":2,"fields":{"height":"1130″,"width":"2000″},"mediaType":"Image","mimeType":"image/jpeg","url":"https://media.guim.co.uk/5babe6412a53a625227c4bda9d29e0232ebeb1e9/0_0_3500_1978/2000.jpg"},{"index":3,"fields":{"height":"565″,"width":"1000″},"mediaType":"Image","mimeType":"image/jpeg","url":"https://media.guim.co.uk/5babe6412a53a625227c4bda9d29e0232ebeb1e9/0_0_3500_1978/1000.jpg"},{"index":4,"fields":{"height":"283″,"width":"500″},"mediaType":"Image","mimeType":"image/jpeg","url":"https://media.guim.co.uk/5babe6412a53a625227c4bda9d29e0232ebeb1e9/0_0_3500_1978/500.jpg"},{"index":5,"fields":{"height":"79″,"width":"140″},"mediaType":"Image","mimeType":"image/jpeg","url":"https://media.guim.co.uk/5babe6412a53a625227c4bda9d29e0232ebeb1e9/0_0_3500_1978/140.jpg"}]},"data":{"alt":"Harry Kane steals in to head the equaliser.","caption":"Harry Kane steals in to head the equaliser.","credit":"Photograph: Tony Obrien/Reuters"},"displayCredit":true,"role":"inline","imageSources":[{"weighting":"inline","srcSet":[{"src":"https://i.guim.co.uk/img/media/5babe6412a53a625227c4bda9d29e0232ebeb1e9/0_0_3500_1978/master/3500.jpg?width=620&quality=85&auto=format&fit=max&s=328be487041f9cbbdb12040907efbe1c","width":620},{"src":"https://i.guim.co.uk/img/media/5babe6412a53a625227c4bda9d29e0232ebeb1e9/0_0_3500_1978/master/3500.jpg?width=620&quality=45&auto=format&fit=max&dpr=2&s=abb3275c0e20b09809ea81bf01a4ff49″,"width":1240},{"src":"https://i.guim.co.uk/img/media/5babe6412a53a625227c4bda9d29e0232ebeb1e9/0_0_3500_1978/master/3500.jpg?width=605&quality=85&auto=format&fit=max&s=c74a85a2c24a9aeb66f15e7c85fac16f","width":605},{"src":"https://i.guim.co.uk/img/media/5babe6412a53a625227c4bda9d29e0232ebeb1e9/0_0_3500_1978/master/3500.jpg?width=605&quality=45&auto=format&fit=max&dpr=2&s=63d0eeacd90aadf83061c3cb0c2288bf","width":1210},{"src":"https://i.guim.co.uk/img/media/5babe6412a53a625227c4bda9d29e0232ebeb1e9/0_0_3500_1978/master/3500.jpg?width=445&quality=85&auto=format&fit=max&s=a50a84fbbedab50cbcec9297abb62db8″,"width":445},{"src":"https://i.guim.co.uk/img/media/5babe6412a53a625227c4bda9d29e0232ebeb1e9/0_0_3500_1978/master/3500.jpg?width=445&quality=45&auto=format&fit=max&dpr=2&s=95029ef83504e1216340d3368e2bb067″,"width":890}]},{"weighting":"thumbnail","srcSet":[{"src":"https://i.guim.co.uk/img/media/5babe6412a53a625227c4bda9d29e0232ebeb1e9/0_0_3500_1978/master/3500.jpg?width=140&quality=85&auto=format&fit=max&s=10ffc12f18455bf018ee983a274f2f2f","width":140},{"src":"https://i.guim.co.uk/img/media/5babe6412a53a625227c4bda9d29e0232ebeb1e9/0_0_3500_1978/master/3500.jpg?width=140&quality=45&auto=format&fit=max&dpr=2&s=747dbf0c9ff95b32a82dc07e1921560e","width":280},{"src":"https://i.guim.co.uk/img/media/5babe6412a53a625227c4bda9d29e0232ebeb1e9/0_0_3500_1978/master/3500.jpg?width=120&quality=85&auto=format&fit=max&s=32f7fa5dff20ece2a3388c5e641368a0″,"width":120},{"src":"https://i.guim.co.uk/img/media/5babe6412a53a625227c4bda9d29e0232ebeb1e9/0_0_3500_1978/master/3500.jpg?width=120&quality=45&auto=format&fit=max&dpr=2&s=3550a39b8941df14a498b65fdd52da3b","width":240}]},{"weighting":"supporting","srcSet":[{"src":"https://i.guim.co.uk/img/media/5babe6412a53a625227c4bda9d29e0232ebeb1e9/0_0_3500_1978/master/3500.jpg?width=380&quality=85&auto=format&fit=max&s=88cf0110fbd37a7db99acc8c720f249d","width":380},{"src":"https://i.guim.co.uk/img/media/5babe6412a53a625227c4bda9d29e0232ebeb1e9/0_0_3500_1978/master/3500.jpg?width=380&quality=45&auto=format&fit=max&dpr=2&s=703d93c0854c9153feed55072cd92cbd","width":760},{"src":"https://i.guim.co.uk/img/media/5babe6412a53a625227c4bda9d29e0232ebeb1e9/0_0_3500_1978/master/3500.jpg?width=300&quality=85&auto=format&fit=max&s=b2a0c3a04a5f8b6e89b2970656fb00b7″,"width":300},{"src":"https://i.guim.co.uk/img/media/5babe6412a53a625227c4bda9d29e0232ebeb1e9/0_0_3500_1978/master/3500.jpg?width=300&quality=45&auto=format&fit=max&dpr=2&s=04f9de1fc98060bc8fa06d103081e85f","width":600},{"src":"https://i.guim.co.uk/img/media/5babe6412a53a625227c4bda9d29e0232ebeb1e9/0_0_3500_1978/master/3500.jpg?width=620&quality=85&auto=format&fit=max&s=328be487041f9cbbdb12040907efbe1c","width":620},{"src":"https://i.guim.co.uk/img/media/5babe6412a53a625227c4bda9d29e0232ebeb1e9/0_0_3500_1978/master/3500.jpg?width=620&quality=45&auto=format&fit=max&dpr=2&s=abb3275c0e20b09809ea81bf01a4ff49″,"width":1240},{"src":"https://i.guim.co.uk/img/media/5babe6412a53a625227c4bda9d29e0232ebeb1e9/0_0_3500_1978/master/3500.jpg?width=605&quality=85&auto=format&fit=max&s=c74a85a2c24a9aeb66f15e7c85fac16f","width":605},{"src":"https://i.guim.co.uk/img/media/5babe6412a53a625227c4bda9d29e0232ebeb1e9/0_0_3500_1978/master/3500.jpg?width=605&quality=45&auto=format&fit=max&dpr=2&s=63d0eeacd90aadf83061c3cb0c2288bf","width":1210},{"src":"https://i.guim.co.uk/img/media/5babe6412a53a625227c4bda9d29e0232ebeb1e9/0_0_3500_1978/master/3500.jpg?width=445&quality=85&auto=format&fit=max&s=a50a84fbbedab50cbcec9297abb62db8″,"width":445},{"src":"https://i.guim.co.uk/img/media/5babe6412a53a625227c4bda9d29e0232ebeb1e9/0_0_3500_1978/master/3500.jpg?width=445&quality=45&auto=format&fit=max&dpr=2&s=95029ef83504e1216340d3368e2bb067″,"width":890}]},{"weighting":"showcase","srcSet":[{"src":"https://i.guim.co.uk/img/media/5babe6412a53a625227c4bda9d29e0232ebeb1e9/0_0_3500_1978/master/3500.jpg?width=860&quality=85&auto=format&fit=max&s=d83e38405745b39194efa5d80cb73664″,"width":860},{"src":"https://i.guim.co.uk/img/media/5babe6412a53a625227c4bda9d29e0232ebeb1e9/0_0_3500_1978/master/3500.jpg?width=860&quality=45&auto=format&fit=max&dpr=2&s=812e16e98566129b486734493a37626c","width":1720},{"src":"https://i.guim.co.uk/img/media/5babe6412a53a625227c4bda9d29e0232ebeb1e9/0_0_3500_1978/master/3500.jpg?width=780&quality=85&auto=format&fit=max&s=5d8c109636c04f586ddc98c77ef87b5a","width":780},{"src":"https://i.guim.co.uk/img/media/5babe6412a53a625227c4bda9d29e0232ebeb1e9/0_0_3500_1978/master/3500.jpg?width=780&quality=45&auto=format&fit=max&dpr=2&s=3d153375b2c9b3605042e61c4b7ea5b3″,"width":1560},{"src":"https://i.guim.co.uk/img/media/5babe6412a53a625227c4bda9d29e0232ebeb1e9/0_0_3500_1978/master/3500.jpg?width=620&quality=85&auto=format&fit=max&s=328be487041f9cbbdb12040907efbe1c","width":620},{"src":"https://i.guim.co.uk/img/media/5babe6412a53a625227c4bda9d29e0232ebeb1e9/0_0_3500_1978/master/3500.jpg?width=620&quality=45&auto=format&fit=max&dpr=2&s=abb3275c0e20b09809ea81bf01a4ff49″,"width":1240},{"src":"https://i.guim.co.uk/img/media/5babe6412a53a625227c4bda9d29e0232ebeb1e9/0_0_3500_1978/master/3500.jpg?width=605&quality=85&auto=format&fit=max&s=c74a85a2c24a9aeb66f15e7c85fac16f","width":605},{"src":"https://i.guim.co.uk/img/media/5babe6412a53a625227c4bda9d29e0232ebeb1e9/0_0_3500_1978/master/3500.jpg?width=605&quality=45&auto=format&fit=max&dpr=2&s=63d0eeacd90aadf83061c3cb0c2288bf","width":1210},{"src":"https://i.guim.co.uk/img/media/5babe6412a53a625227c4bda9d29e0232ebeb1e9/0_0_3500_1978/master/3500.jpg?width=445&quality=85&auto=format&fit=max&s=a50a84fbbedab50cbcec9297abb62db8″,"width":445},{"src":"https://i.guim.co.uk/img/media/5babe6412a53a625227c4bda9d29e0232ebeb1e9/0_0_3500_1978/master/3500.jpg?width=445&quality=45&auto=format&fit=max&dpr=2&s=95029ef83504e1216340d3368e2bb067″,"width":890}]},{"weighting":"halfwidth","srcSet":[{"src":"https://i.guim.co.uk/img/media/5babe6412a53a625227c4bda9d29e0232ebeb1e9/0_0_3500_1978/master/3500.jpg?width=620&quality=85&auto=format&fit=max&s=328be487041f9cbbdb12040907efbe1c","width":620},{"src":"https://i.guim.co.uk/img/media/5babe6412a53a625227c4bda9d29e0232ebeb1e9/0_0_3500_1978/master/3500.jpg?width=620&quality=45&auto=format&fit=max&dpr=2&s=abb3275c0e20b09809ea81bf01a4ff49″,"width":1240},{"src":"https://i.guim.co.uk/img/media/5babe6412a53a625227c4bda9d29e0232ebeb1e9/0_0_3500_1978/master/3500.jpg?width=605&quality=85&auto=format&fit=max&s=c74a85a2c24a9aeb66f15e7c85fac16f","width":605},{"src":"https://i.guim.co.uk/img/media/5babe6412a53a625227c4bda9d29e0232ebeb1e9/0_0_3500_1978/master/3500.jpg?width=605&quality=45&auto=format&fit=max&dpr=2&s=63d0eeacd90aadf83061c3cb0c2288bf","width":1210},{"src":"https://i.guim.co.uk/img/media/5babe6412a53a625227c4bda9d29e0232ebeb1e9/0_0_3500_1978/master/3500.jpg?width=445&quality=85&auto=format&fit=max&s=a50a84fbbedab50cbcec9297abb62db8″,"width":445},{"src":"https://i.guim.co.uk/img/media/5babe6412a53a625227c4bda9d29e0232ebeb1e9/0_0_3500_1978/master/3500.jpg?width=445&quality=45&auto=format&fit=max&dpr=2&s=95029ef83504e1216340d3368e2bb067″,"width":890}]},{"weighting":"immersive","srcSet":[{"src":"https://i.guim.co.uk/img/media/5babe6412a53a625227c4bda9d29e0232ebeb1e9/0_0_3500_1978/master/3500.jpg?width=1900&quality=85&auto=format&fit=max&s=f9d4cf22bfc7d92869d275ec0b05f648″,"width":1900},{"src":"https://i.guim.co.uk/img/media/5babe6412a53a625227c4bda9d29e0232ebeb1e9/0_0_3500_1978/master/3500.jpg?width=1900&quality=45&auto=format&fit=max&dpr=2&s=004bf1bd8383574b82bd20ba1f72bf2f","width":3800},{"src":"https://i.guim.co.uk/img/media/5babe6412a53a625227c4bda9d29e0232ebeb1e9/0_0_3500_1978/master/3500.jpg?width=1300&quality=85&auto=format&fit=max&s=006796bc11be4fb32a9e8905e6026fd5″,"width":1300},{"src":"https://i.guim.co.uk/img/media/5babe6412a53a625227c4bda9d29e0232ebeb1e9/0_0_3500_1978/master/3500.jpg?width=1300&quality=45&auto=format&fit=max&dpr=2&s=86f4894ed12f67414aee7956b2919403″,"width":2600},{"src":"https://i.guim.co.uk/img/media/5babe6412a53a625227c4bda9d29e0232ebeb1e9/0_0_3500_1978/master/3500.jpg?width=1140&quality=85&auto=format&fit=max&s=baa209ece617ba9b72266fb75783da67″,"width":1140},{"src":"https://i.guim.co.uk/img/media/5babe6412a53a625227c4bda9d29e0232ebeb1e9/0_0_3500_1978/master/3500.jpg?width=1140&quality=45&auto=format&fit=max&dpr=2&s=42abccb6907cc1dc18b3cb1e3e0e1e1a","width":2280},{"src":"https://i.guim.co.uk/img/media/5babe6412a53a625227c4bda9d29e0232ebeb1e9/0_0_3500_1978/master/3500.jpg?width=980&quality=85&auto=format&fit=max&s=3c15d4a8af09cf02620b958ea6656f1d","width":980},{"src":"https://i.guim.co.uk/img/media/5babe6412a53a625227c4bda9d29e0232ebeb1e9/0_0_3500_1978/master/3500.jpg?width=980&quality=45&auto=format&fit=max&dpr=2&s=1079ba4033d8d9b0c4faa45872ef348d","width":1960},{"src":"https://i.guim.co.uk/img/media/5babe6412a53a625227c4bda9d29e0232ebeb1e9/0_0_3500_1978/master/3500.jpg?width=740&quality=85&auto=format&fit=max&s=2413bb1e19cb5ccec2569705e3b68c56″,"width":740},{"src":"https://i.guim.co.uk/img/media/5babe6412a53a625227c4bda9d29e0232ebeb1e9/0_0_3500_1978/master/3500.jpg?width=740&quality=45&auto=format&fit=max&dpr=2&s=923bda91ef27bf209258e0096d531db1″,"width":1480},{"src":"https://i.guim.co.uk/img/media/5babe6412a53a625227c4bda9d29e0232ebeb1e9/0_0_3500_1978/master/3500.jpg?width=660&quality=85&auto=format&fit=max&s=6a58104ca90a42420f7995f80a89cffe","width":660},{"src":"https://i.guim.co.uk/img/media/5babe6412a53a625227c4bda9d29e0232ebeb1e9/0_0_3500_1978/master/3500.jpg?width=660&quality=45&auto=format&fit=max&dpr=2&s=d480e95dbc4a6483b59c3b2cd752fa11″,"width":1320},{"src":"https://i.guim.co.uk/img/media/5babe6412a53a625227c4bda9d29e0232ebeb1e9/0_0_3500_1978/master/3500.jpg?width=480&quality=85&auto=format&fit=max&s=91973169f4e576f04964ce7ee27f883e","width":480},{"src":"https://i.guim.co.uk/img/media/5babe6412a53a625227c4bda9d29e0232ebeb1e9/0_0_3500_1978/master/3500.jpg?width=480&quality=45&auto=format&fit=max&dpr=2&s=fbd4c1a1e5f549eb310acd01f4217bf4″,"width":960}]}],"elementId":"ece3bf58-707e-42ed-934d-4abdbd9a43d1″}],"attributes":{"pinned":false,"keyEvent":true,"summary":false},"blockCreatedOn":1663432706000,"blockCreatedOnDisplay":"12.38 EDT","blockLastUpdated":1663432924000,"blockLastUpdatedDisplay":"12.42 EDT","blockFirstPublished":1663432836000,"blockFirstPublishedDisplay":"12.40 EDT","blockFirstPublishedDisplayNoTimezone":"12.40″,"title":"GOAL! Tottenham Hotspur 1-1 Leicester City (Kane 9)","contributors":[],"primaryDateLine":"Sat 17 Sep 2022 13.13 EDT","secondaryDateLine":"First published on Sat 17 Sep 2022 11.28 EDT"},{"id":"6325f7618f08ee6e81d2bc84″,"elements":[{"_type":"model.dotcomrendering.pageElements.TextBlockElement","html":"

Leicester lead! Youri Tielemans steps up again, goes for the same side of the goal but hits the ball much higher. Lloris goes the right way again but doesn't get a touch and Leicester City are one up.

","elementId":"afa28ae1-7b77-4b37-9ed2-3229764cf1ea"},{"_type":"model.dotcomrendering.pageElements.ImageBlockElement","media":{"allImages":[{"index":0,"fields":{"height":"2101″,"width":"3500″},"mediaType":"Image","mimeType":"image/jpeg","url":"https://media.guim.co.uk/b56d61122d0c49e5d7948858595b2ce7dfa4bd8e/0_15_3500_2101/3500.jpg"},{"index":1,"fields":{"isMaster":"true","height":"2101″,"width":"3500″},"mediaType":"Image","mimeType":"image/jpeg","url":"https://media.guim.co.uk/b56d61122d0c49e5d7948858595b2ce7dfa4bd8e/0_15_3500_2101/master/3500.jpg"},{"index":2,"fields":{"height":"1200″,"width":"2000″},"mediaType":"Image","mimeType":"image/jpeg","url":"https://media.guim.co.uk/b56d61122d0c49e5d7948858595b2ce7dfa4bd8e/0_15_3500_2101/2000.jpg"},{"index":3,"fields":{"height":"600″,"width":"1000″},"mediaType":"Image","mimeType":"image/jpeg","url":"https://media.guim.co.uk/b56d61122d0c49e5d7948858595b2ce7dfa4bd8e/0_15_3500_2101/1000.jpg"},{"index":4,"fields":{"height":"300″,"width":"500″},"mediaType":"Image","mimeType":"image/jpeg","url":"https://media.guim.co.uk/b56d61122d0c49e5d7948858595b2ce7dfa4bd8e/0_15_3500_2101/500.jpg"},{"index":5,"fields":{"height":"84″,"width":"140″},"mediaType":"Image","mimeType":"image/jpeg","url":"https://media.guim.co.uk/b56d61122d0c49e5d7948858595b2ce7dfa4bd8e/0_15_3500_2101/140.jpg"}]},"data":{"alt":"Youri Tielemans makes it count on the second attempt","caption":"Youri Tielemans makes it count on the second attempt","credit":"Photograph: Tony Obrien/Reuters"},"displayCredit":true,"role":"inline","imageSources":[{"weighting":"inline","srcSet":[{"src":"https://i.guim.co.uk/img/media/b56d61122d0c49e5d7948858595b2ce7dfa4bd8e/0_15_3500_2101/master/3500.jpg?width=620&quality=85&auto=format&fit=max&s=894232f9057913eb6a48b9b3422742c8″,"width":620},{"src":"https://i.guim.co.uk/img/media/b56d61122d0c49e5d7948858595b2ce7dfa4bd8e/0_15_3500_2101/master/3500.jpg?width=620&quality=45&auto=format&fit=max&dpr=2&s=d4e9bd5a0dafcb0d6afe836454a0d3f0″,"width":1240},{"src":"https://i.guim.co.uk/img/media/b56d61122d0c49e5d7948858595b2ce7dfa4bd8e/0_15_3500_2101/master/3500.jpg?width=605&quality=85&auto=format&fit=max&s=fb3f80094741d05c87f34cba2912a317″,"width":605},{"src":"https://i.guim.co.uk/img/media/b56d61122d0c49e5d7948858595b2ce7dfa4bd8e/0_15_3500_2101/master/3500.jpg?width=605&quality=45&auto=format&fit=max&dpr=2&s=06c962222cd070233d0f1c010f4a33e6″,"width":1210},{"src":"https://i.guim.co.uk/img/media/b56d61122d0c49e5d7948858595b2ce7dfa4bd8e/0_15_3500_2101/master/3500.jpg?width=445&quality=85&auto=format&fit=max&s=c0a8c19ba2fe4e72eefb708a678c0eb2″,"width":445},{"src":"https://i.guim.co.uk/img/media/b56d61122d0c49e5d7948858595b2ce7dfa4bd8e/0_15_3500_2101/master/3500.jpg?width=445&quality=45&auto=format&fit=max&dpr=2&s=ee68a1e0e26041966cc4e92277bcb37a","width":890}]},{"weighting":"thumbnail","srcSet":[{"src":"https://i.guim.co.uk/img/media/b56d61122d0c49e5d7948858595b2ce7dfa4bd8e/0_15_3500_2101/master/3500.jpg?width=140&quality=85&auto=format&fit=max&s=28c6487ad3520902ef9de0aa607ebd05″,"width":140},{"src":"https://i.guim.co.uk/img/media/b56d61122d0c49e5d7948858595b2ce7dfa4bd8e/0_15_3500_2101/master/3500.jpg?width=140&quality=45&auto=format&fit=max&dpr=2&s=f17ca7d502195f0bb807a1a5f5c15dfd","width":280},{"src":"https://i.guim.co.uk/img/media/b56d61122d0c49e5d7948858595b2ce7dfa4bd8e/0_15_3500_2101/master/3500.jpg?width=120&quality=85&auto=format&fit=max&s=6dda8648ca8caf04bb7452c4d6e56723″,"width":120},{"src":"https://i.guim.co.uk/img/media/b56d61122d0c49e5d7948858595b2ce7dfa4bd8e/0_15_3500_2101/master/3500.jpg?width=120&quality=45&auto=format&fit=max&dpr=2&s=13aa8ee89f22dc5d56e4f8ea8d814c28″,"width":240}]},{"weighting":"supporting","srcSet":[{"src":"https://i.guim.co.uk/img/media/b56d61122d0c49e5d7948858595b2ce7dfa4bd8e/0_15_3500_2101/master/3500.jpg?width=380&quality=85&auto=format&fit=max&s=3be5332a9e506f20551ba65f789473b9″,"width":380},{"src":"https://i.guim.co.uk/img/media/b56d61122d0c49e5d7948858595b2ce7dfa4bd8e/0_15_3500_2101/master/3500.jpg?width=380&quality=45&auto=format&fit=max&dpr=2&s=801200805302fe4d5ae37b15dff38e16″,"width":760},{"src":"https://i.guim.co.uk/img/media/b56d61122d0c49e5d7948858595b2ce7dfa4bd8e/0_15_3500_2101/master/3500.jpg?width=300&quality=85&auto=format&fit=max&s=5449b06a90e355c2e9cac7de33537335″,"width":300},{"src":"https://i.guim.co.uk/img/media/b56d61122d0c49e5d7948858595b2ce7dfa4bd8e/0_15_3500_2101/master/3500.jpg?width=300&quality=45&auto=format&fit=max&dpr=2&s=6fcda48b9e31a871bad8758cdcc3d3ba","width":600},{"src":"https://i.guim.co.uk/img/media/b56d61122d0c49e5d7948858595b2ce7dfa4bd8e/0_15_3500_2101/master/3500.jpg?width=620&quality=85&auto=format&fit=max&s=894232f9057913eb6a48b9b3422742c8″,"width":620},{"src":"https://i.guim.co.uk/img/media/b56d61122d0c49e5d7948858595b2ce7dfa4bd8e/0_15_3500_2101/master/3500.jpg?width=620&quality=45&auto=format&fit=max&dpr=2&s=d4e9bd5a0dafcb0d6afe836454a0d3f0″,"width":1240},{"src":"https://i.guim.co.uk/img/media/b56d61122d0c49e5d7948858595b2ce7dfa4bd8e/0_15_3500_2101/master/3500.jpg?width=605&quality=85&auto=format&fit=max&s=fb3f80094741d05c87f34cba2912a317″,"width":605},{"src":"https://i.guim.co.uk/img/media/b56d61122d0c49e5d7948858595b2ce7dfa4bd8e/0_15_3500_2101/master/3500.jpg?width=605&quality=45&auto=format&fit=max&dpr=2&s=06c962222cd070233d0f1c010f4a33e6″,"width":1210},{"src":"https://i.guim.co.uk/img/media/b56d61122d0c49e5d7948858595b2ce7dfa4bd8e/0_15_3500_2101/master/3500.jpg?width=445&quality=85&auto=format&fit=max&s=c0a8c19ba2fe4e72eefb708a678c0eb2″,"width":445},{"src":"https://i.guim.co.uk/img/media/b56d61122d0c49e5d7948858595b2ce7dfa4bd8e/0_15_3500_2101/master/3500.jpg?width=445&quality=45&auto=format&fit=max&dpr=2&s=ee68a1e0e26041966cc4e92277bcb37a","width":890}]},{"weighting":"showcase","srcSet":[{"src":"https://i.guim.co.uk/img/media/b56d61122d0c49e5d7948858595b2ce7dfa4bd8e/0_15_3500_2101/master/3500.jpg?width=860&quality=85&auto=format&fit=max&s=00600fe1c62b9f6d7bcb808c15ee90e1″,"width":860},{"src":"https://i.guim.co.uk/img/media/b56d61122d0c49e5d7948858595b2ce7dfa4bd8e/0_15_3500_2101/master/3500.jpg?width=860&quality=45&auto=format&fit=max&dpr=2&s=ce107e35b3412662638782dd58a9b563″,"width":1720},{"src":"https://i.guim.co.uk/img/media/b56d61122d0c49e5d7948858595b2ce7dfa4bd8e/0_15_3500_2101/master/3500.jpg?width=780&quality=85&auto=format&fit=max&s=817881138328810bcb5e382d530d6bfa","width":780},{"src":"https://i.guim.co.uk/img/media/b56d61122d0c49e5d7948858595b2ce7dfa4bd8e/0_15_3500_2101/master/3500.jpg?width=780&quality=45&auto=format&fit=max&dpr=2&s=1097df268e0b40e482ca968083e2003c","width":1560},{"src":"https://i.guim.co.uk/img/media/b56d61122d0c49e5d7948858595b2ce7dfa4bd8e/0_15_3500_2101/master/3500.jpg?width=620&quality=85&auto=format&fit=max&s=894232f9057913eb6a48b9b3422742c8″,"width":620},{"src":"https://i.guim.co.uk/img/media/b56d61122d0c49e5d7948858595b2ce7dfa4bd8e/0_15_3500_2101/master/3500.jpg?width=620&quality=45&auto=format&fit=max&dpr=2&s=d4e9bd5a0dafcb0d6afe836454a0d3f0″,"width":1240},{"src":"https://i.guim.co.uk/img/media/b56d61122d0c49e5d7948858595b2ce7dfa4bd8e/0_15_3500_2101/master/3500.jpg?width=605&quality=85&auto=format&fit=max&s=fb3f80094741d05c87f34cba2912a317″,"width":605},{"src":"https://i.guim.co.uk/img/media/b56d61122d0c49e5d7948858595b2ce7dfa4bd8e/0_15_3500_2101/master/3500.jpg?width=605&quality=45&auto=format&fit=max&dpr=2&s=06c962222cd070233d0f1c010f4a33e6″,"width":1210},{"src":"https://i.guim.co.uk/img/media/b56d61122d0c49e5d7948858595b2ce7dfa4bd8e/0_15_3500_2101/master/3500.jpg?width=445&quality=85&auto=format&fit=max&s=c0a8c19ba2fe4e72eefb708a678c0eb2″,"width":445},{"src":"https://i.guim.co.uk/img/media/b56d61122d0c49e5d7948858595b2ce7dfa4bd8e/0_15_3500_2101/master/3500.jpg?width=445&quality=45&auto=format&fit=max&dpr=2&s=ee68a1e0e26041966cc4e92277bcb37a","width":890}]},{"weighting":"halfwidth","srcSet":[{"src":"https://i.guim.co.uk/img/media/b56d61122d0c49e5d7948858595b2ce7dfa4bd8e/0_15_3500_2101/master/3500.jpg?width=620&quality=85&auto=format&fit=max&s=894232f9057913eb6a48b9b3422742c8″,"width":620},{"src":"https://i.guim.co.uk/img/media/b56d61122d0c49e5d7948858595b2ce7dfa4bd8e/0_15_3500_2101/master/3500.jpg?width=620&quality=45&auto=format&fit=max&dpr=2&s=d4e9bd5a0dafcb0d6afe836454a0d3f0″,"width":1240},{"src":"https://i.guim.co.uk/img/media/b56d61122d0c49e5d7948858595b2ce7dfa4bd8e/0_15_3500_2101/master/3500.jpg?width=605&quality=85&auto=format&fit=max&s=fb3f80094741d05c87f34cba2912a317″,"width":605},{"src":"https://i.guim.co.uk/img/media/b56d61122d0c49e5d7948858595b2ce7dfa4bd8e/0_15_3500_2101/master/3500.jpg?width=605&quality=45&auto=format&fit=max&dpr=2&s=06c962222cd070233d0f1c010f4a33e6″,"width":1210},{"src":"https://i.guim.co.uk/img/media/b56d61122d0c49e5d7948858595b2ce7dfa4bd8e/0_15_3500_2101/master/3500.jpg?width=445&quality=85&auto=format&fit=max&s=c0a8c19ba2fe4e72eefb708a678c0eb2″,"width":445},{"src":"https://i.guim.co.uk/img/media/b56d61122d0c49e5d7948858595b2ce7dfa4bd8e/0_15_3500_2101/master/3500.jpg?width=445&quality=45&auto=format&fit=max&dpr=2&s=ee68a1e0e26041966cc4e92277bcb37a","width":890}]},{"weighting":"immersive","srcSet":[{"src":"https://i.guim.co.uk/img/media/b56d61122d0c49e5d7948858595b2ce7dfa4bd8e/0_15_3500_2101/master/3500.jpg?width=1900&quality=85&auto=format&fit=max&s=ffd96635dadb5a0072a3656368571ff4″,"width":1900},{"src":"https://i.guim.co.uk/img/media/b56d61122d0c49e5d7948858595b2ce7dfa4bd8e/0_15_3500_2101/master/3500.jpg?width=1900&quality=45&auto=format&fit=max&dpr=2&s=e74f59cae747d48e57db70868b9e3d8f","width":3800},{"src":"https://i.guim.co.uk/img/media/b56d61122d0c49e5d7948858595b2ce7dfa4bd8e/0_15_3500_2101/master/3500.jpg?width=1300&quality=85&auto=format&fit=max&s=5728d09b12a8af86eebf474bfb94984b","width":1300},{"src":"https://i.guim.co.uk/img/media/b56d61122d0c49e5d7948858595b2ce7dfa4bd8e/0_15_3500_2101/master/3500.jpg?width=1300&quality=45&auto=format&fit=max&dpr=2&s=c4b1f83fce400c7522ab01841b19cdef","width":2600},{"src":"https://i.guim.co.uk/img/media/b56d61122d0c49e5d7948858595b2ce7dfa4bd8e/0_15_3500_2101/master/3500.jpg?width=1140&quality=85&auto=format&fit=max&s=44e1bcb80bd3ad0a9c1416078ee7829c","width":1140},{"src":"https://i.guim.co.uk/img/media/b56d61122d0c49e5d7948858595b2ce7dfa4bd8e/0_15_3500_2101/master/3500.jpg?width=1140&quality=45&auto=format&fit=max&dpr=2&s=6979fc3dc2a23662c030bb1eb4bd0ed6″,"width":2280},{"src":"https://i.guim.co.uk/img/media/b56d61122d0c49e5d7948858595b2ce7dfa4bd8e/0_15_3500_2101/master/3500.jpg?width=980&quality=85&auto=format&fit=max&s=89d301d7a035c4678fe9d8db3f43d41b","width":980},{"src":"https://i.guim.co.uk/img/media/b56d61122d0c49e5d7948858595b2ce7dfa4bd8e/0_15_3500_2101/master/3500.jpg?width=980&quality=45&auto=format&fit=max&dpr=2&s=256f979bc202116cc62f70cc814bd97d","width":1960},{"src":"https://i.guim.co.uk/img/media/b56d61122d0c49e5d7948858595b2ce7dfa4bd8e/0_15_3500_2101/master/3500.jpg?width=740&quality=85&auto=format&fit=max&s=88518fd9776ec848feecbdcbb5d3f9f0″,"width":740},{"src":"https://i.guim.co.uk/img/media/b56d61122d0c49e5d7948858595b2ce7dfa4bd8e/0_15_3500_2101/master/3500.jpg?width=740&quality=45&auto=format&fit=max&dpr=2&s=dfaf000ff3fd4556d68d046f72e388a0″,"width":1480},{"src":"https://i.guim.co.uk/img/media/b56d61122d0c49e5d7948858595b2ce7dfa4bd8e/0_15_3500_2101/master/3500.jpg?width=660&quality=85&auto=format&fit=max&s=8da21012a73e514e9cee875d9a2799a3″,"width":660},{"src":"https://i.guim.co.uk/img/media/b56d61122d0c49e5d7948858595b2ce7dfa4bd8e/0_15_3500_2101/master/3500.jpg?width=660&quality=45&auto=format&fit=max&dpr=2&s=f09a7fffc7cce956746b27c01390af47″,"width":1320},{"src":"https://i.guim.co.uk/img/media/b56d61122d0c49e5d7948858595b2ce7dfa4bd8e/0_15_3500_2101/master/3500.jpg?width=480&quality=85&auto=format&fit=max&s=846d617aea282a2d179ce51eee755a44″,"width":480},{"src":"https://i.guim.co.uk/img/media/b56d61122d0c49e5d7948858595b2ce7dfa4bd8e/0_15_3500_2101/master/3500.jpg?width=480&quality=45&auto=format&fit=max&dpr=2&s=78ffa5dd574a3d8b0c42eb5a901bef90″,"width":960}]}],"elementId":"295beaf1-651d-41df-b27a-42fc8286a07a"}],"attributes":{"pinned":false,"keyEvent":true,"summary":false},"blockCreatedOn":1663432545000,"blockCreatedOnDisplay":"12.35 EDT","blockLastUpdated":1663432852000,"blockLastUpdatedDisplay":"12.40 EDT","blockFirstPublished":1663432631000,"blockFirstPublishedDisplay":"12.37 EDT","blockFirstPublishedDisplayNoTimezone":"12.37″,"title":"GOAL! Tottenham Hotspur 0-1 Leicester City (Tielemans 6pen)","contributors":[],"primaryDateLine":"Sat 17 Sep 2022 13.13 EDT","secondaryDateLine":"First published on Sat 17 Sep 2022 11.28 EDT"},{"id":"6325f6e48f08ee6e81d2bc7a","elements":[{"_type":"model.dotcomrendering.pageElements.TextBlockElement","html":"

3 min: Davinson Sanchez needlessly brings down James Justin on the edge of the penalty area, right on the line. Spot-kick!

","elementId":"7f26bd54-7706-49fa-b2a2-df0729b7293b"}],"attributes":{"pinned":false,"keyEvent":true,"summary":false},"blockCreatedOn":1663432420000,"blockCreatedOnDisplay":"12.33 EDT","blockLastUpdated":1663432478000,"blockLastUpdatedDisplay":"12.34 EDT","blockFirstPublished":1663432478000,"blockFirstPublishedDisplay":"12.34 EDT","blockFirstPublishedDisplayNoTimezone":"12.34″,"title":"Penalty for Leicester!","contributors":[],"primaryDateLine":"Sat 17 Sep 2022 13.13 EDT","secondaryDateLine":"First published on Sat 17 Sep 2022 11.28 EDT"},{"id":"6325f5bc8f08ee6e81d2bc69″,"elements":[{"_type":"model.dotcomrendering.pageElements.TextBlockElement","html":"

1 min: Leicester get the ball rolling in the last of today's three Premier League games.

","elementId":"07d18e51-9055-45a0-b9ba-baab147947ec"}],"attributes":{"pinned":false,"keyEvent":true,"summary":false},"blockCreatedOn":1663432124000,"blockCreatedOnDisplay":"12.28 EDT","blockLastUpdated":1663432265000,"blockLastUpdatedDisplay":"12.31 EDT","blockFirstPublished":1663432265000,"blockFirstPublishedDisplay":"12.31 EDT","blockFirstPublishedDisplayNoTimezone":"12.31″,"title":"Tottenham Hotspur v Leicester City is go …","contributors":[],"primaryDateLine":"Sat 17 Sep 2022 13.13 EDT","secondaryDateLine":"First published on Sat 17 Sep 2022 11.28 EDT"},{"id":"6325e9638f083f878e70f5cd","elements":[{"_type":"model.dotcomrendering.pageElements.TextBlockElement","html":"

Tottenham Hotspur: Lloris, Sanchez, Dier, Lenglet, Perisic, Hojbjerg, Bentancur, Sessegnon, Kulusevski, Richarlison, Kane.

","elementId":"c798f174-22ff-403f-8f2c-55cb8cfd9b45″},{"_type":"model.dotcomrendering.pageElements.TextBlockElement","html":"

Subs: Doherty, Skipp, Son, Gil Salvatierra, Emerson, Romero, Forster, Tanganga, Bissouma.

","elementId":"8e47cc2e-32af-4692-bcc6-ad3da3271aac"},{"_type":"model.dotcomrendering.pageElements.TextBlockElement","html":"

Leicester City: Ward, Castagne, Faes, Evans, Justin, Ndidi, Maddison, Tielemans, Dewsbury-Hall, Barnes, Daka.

","elementId":"f896c6e2-c522-4627-837c-d4e36dc4cb18″},{"_type":"model.dotcomrendering.pageElements.TextBlockElement","html":"

Subs: Vardy, Albrighton, Iheanacho, Perez, Amartey, Praet, Iversen, Thomas, Soumare.

","elementId":"59624e9b-f311-45aa-8dc3-81711b8bd2b4″},{"_type":"model.dotcomrendering.pageElements.TextBlockElement","html":"

Referee: Simon Hooper (Wiltshire)

","elementId":"532ada60-199c-4328-a818-2ce67b9426ba"}],"attributes":{"pinned":false,"keyEvent":true,"summary":false},"blockCreatedOn":1663428963000,"blockCreatedOnDisplay":"11.36 EDT","blockLastUpdated":1663429064000,"blockLastUpdatedDisplay":"11.37 EDT","blockFirstPublished":1663429064000,"blockFirstPublishedDisplay":"11.37 EDT","blockFirstPublishedDisplayNoTimezone":"11.37″,"title":"Tottenham Hotspur v Leicester City line-ups","contributors":[],"primaryDateLine":"Sat 17 Sep 2022 13.13 EDT","secondaryDateLine":"First published on Sat 17 Sep 2022 11.28 EDT"},{"id":"6325d3e18f08ee6e81d2bb25″,"elements":[{"_type":"model.dotcomrendering.pageElements.TextBlockElement","html":"

Lucas Moura appears to be Tottenham's only absentee through injury and remains sidelined with a tendon injury. While nobody likes to see an unhappy Heung-min Son, the clamour for the out-of-sorts South Korean striker to be dropped has intensified in recent games but Conte may keep faith in last year's joint Golden Boot winner, even if it means restricting the in-form Dejan Kulusevski to an appearance off the bench again.

","elementId":"b36c6428-52ef-43fe-8b1d-a0ca2f17a43e"},{"_type":"model.dotcomrendering.pageElements.TextBlockElement","html":"

Leicester also have an almost fully fit if not firing squad, with long term absentees Ryan Bertrand and Ricardo Pereira their only confirmed absentees. Dropped to the bench for their most recent game against Brighton, Jamie Vardy will be hoping to start ahead of Patson Daka or Kelechi Iheanacho.

","elementId":"2d066d27-2ae9-4239-9db8-98069aea5ff7″}],"attributes":{"pinned":false,"keyEvent":true,"summary":false},"blockCreatedOn":1663428497000,"blockCreatedOnDisplay":"11.28 EDT","blockLastUpdated":1663428501000,"blockLastUpdatedDisplay":"11.28 EDT","blockFirstPublished":1663428501000,"blockFirstPublishedDisplay":"11.28 EDT","blockFirstPublishedDisplayNoTimezone":"11.28″,"title":"Early team news","contributors":[],"primaryDateLine":"Sat 17 Sep 2022 13.13 EDT","secondaryDateLine":"First published on Sat 17 Sep 2022 11.28 EDT"},{"id":"6325c1368f08ee6e81d2baa5″,"elements":[{"_type":"model.dotcomrendering.pageElements.TextBlockElement","html":"

Bottom of the table with just one point to their name, Leicester City travel to White Hart Lane with their manager Brendan Rodgers under immense pressure ahead of the international break. His side face a Tottenham team that has been blowing hot and cold this season, even if they have been picking up positive results their performances occasionally do not merit.

","elementId":"03396e12-e156-4552-80bc-9b61e5cb3808″},{"_type":"model.dotcomrendering.pageElements.TextBlockElement","html":"

With four league wins to their name already this season, Spurs are white-hot favourites to make it seven games out of seven unbeaten in the current campaign but their manager Antonio Conte will surely be satisfied with little else but outright victory. Kick-off is at 5.30pm (BST) but stay tuned in the meantime for team news and build-up.

","elementId":"873de9d1-c8c1-4a87-91f8-30ff6c159dd5″}],"attributes":{"pinned":false,"keyEvent":true,"summary":false},"blockCreatedOn":1663428497000,"blockCreatedOnDisplay":"11.28 EDT","blockLastUpdated":1663423450000,"blockLastUpdatedDisplay":"10.04 EDT","blockFirstPublished":1663428497000,"blockFirstPublishedDisplay":"11.28 EDT","blockFirstPublishedDisplayNoTimezone":"11.28″,"title":"Premier League: Tottenham Hotspur v Leicester City","contributors":[],"primaryDateLine":"Sat 17 Sep 2022 13.13 EDT","secondaryDateLine":"First published on Sat 17 Sep 2022 11.28 EDT"}],"filterKeyEvents":false,"format":{"display":0,"theme":2,"design":10},"id":"key-events-carousel-mobile"}">

main events
Goal: Tottenham Hotspur 2-2 Leicester City
Leicester's level! Castanee bullies Ryan Sessegnon on the right and gets a cross pass. James Maddison passes the ball in front of Dier, places the ball over the defender and into the back of the Tottenham net.
39 minutes: Danny Ward swings over the ball after receiving a back pass from Wou Faes and nearly robbed Harry Kane. Get away with it, but only.
38 minutes: Wilfried Ndedid takes his turn to shoot high over the bar after Tottenham gave the ball wide outside his own penalty area once again.
37 minutes: Now Harvey Barnes is shooting, the ball is making its way into a decent position after uncertainty in Tottenham's defensive ranks. I think he was an intruder, so his efforts probably wouldn't have counted even if she had gone in.
36 minutes: James Justin beats Ivan Perisic, circling the Croats before squaring the ball. Harvey Barnes touches but is unable to direct the ball towards the goal.
33 minutes: Leicester continue their style of futile dominance, at the invitation of Tottenham, but they have not given their hosts much to worry about. Kiernan Dewsbury-Hall hit the ball over the bar after heading off a Spurs header to the ball that hit Rodrigo Bentancur's rattle and broke his way.
31 minutes: It's time to put hearts in the hearts of Leicester fans as Tottenham win another corner. On this occasion, Perisic's delivery was poor and he failed to liquidate the first defender.
29 minutes: And Wout Faes plays with Patson Daka behind the Tottenham defense but the Leicester striker hits early and very weakly, directly on Hugo Lloris. This is an unfortunate effort from a very promising site.
27 minutes: From the Spurs corner, Danny Ward grabbed the ball, but lost it in an aerial challenge with Davinson Sanchez. The ball rebounded in the net from Ndidi but Leicester get away with it when the referee explodes for a foul on the Leicester goalkeeper.
24 minutes: Leicester advanced but failed in the end when Arsenal tried to hit the net. Tielemans tries to set up Maddison, who returns the ball to the Belgian. Both could have shot but neither of them did.
Goal! Tottenham 2-1 Leicester City (Dear 22)
Leicester give up another corner kick! Ivan Perisic hits the ball into the penalty area, with Eric Dier using ball speed to header close to the post in the far corner.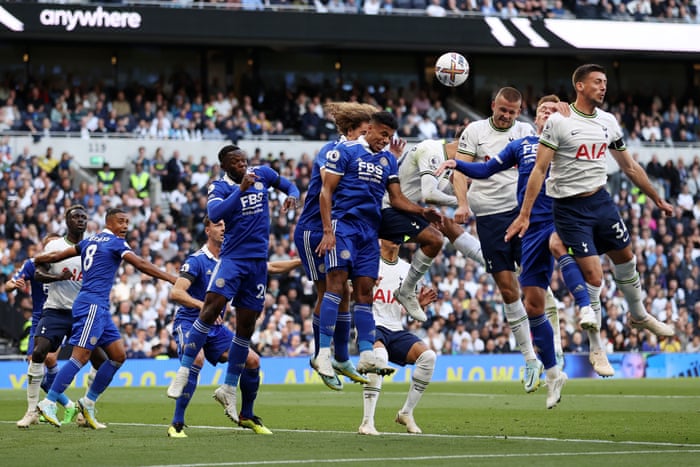 21 minutes: Tottenham's corner after tireless work from Richarlison, who put the ball outside Castagne.
19 minutes: Leicester has a lot of possession but doesn't do much with it. Spurs seem content to hold them at arm's length, waiting to hit them at the break. It's pretty boring to watch but Antonio Conte would argue that it works, so aesthetics are irrelevant as long as the plan works.
17 minutes: Castagne sells Maddison short with an underground pass, allowing Spurs to pounce the ball and blast off the field.
14 minutes: Kane loses the ball cheaply to Ndidi near the halfway line, and returns possession to Leicester. Their players zip around for a long time without doing much ground until finding Tielemans on the right flank. His cross towards the far post was captured from the air by Hugo Lloris.
13 minutes: Richarlison sweeps the ball away to Perisic, who advances and breaks inside and tries to shoot himself. been banned.
11 minutes: It was Dejan Kulusevski who broke through Kane with a cross from the right after Spurs took a short corner kick, all the better to help create a better angle from which the winger was able to find Kane at the far post.
Goal! Tottenham Hotspur 1-1 Leicester City (Kane 9)
Spurs equal! Harry Kane gives Timothy Castanee the slip into the far corner as Spurs takes a short corner kick. Cross entered and came home from about two yards away. That's a very poor goal for Leicester to concede, but it's no surprise as they are desperate to defend from set-pieces.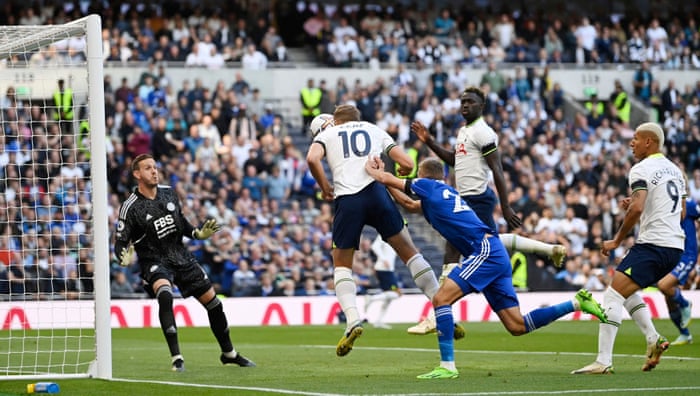 8 minutes: This challenge by Davinson Sanchez to give up his penalty was utterly ridiculous. There was no need for that and all he had to do was stay on his feet as James Justin cut into the Tottenham penalty area. Instead, he jumped and dropped Justin and agreed to the penalty kick.
Goal! Tottenham Hotspur 0-1 Leicester City (Tilmans 6p)
Lister lead! Yuri Tillmans takes the lead again and runs on the same side of the goal but hits the ball much higher. Loris is going in the right direction again but he doesn't get a touch and Leicester City one up.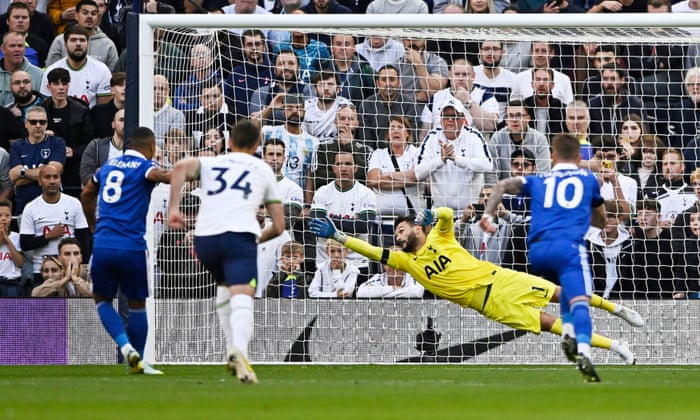 rescued! Hugo Lloris dives low to his right to save a Yuri Tillmans effort from 12 yards. Did he stay on track? I do not think so. We will have a restore.
3 minutes: Davinson Sanchez unnecessarily drops James Justin on the edge of the penalty area, right on the line. Penalty!
3 minutes: Harry Kane picks up the ball and runs directly to the Leicester defense and advances to the penalty area. He was fired by a combination of Wilfred Ndidi and Jonny Evans.
2 minutes: Richarlison plays the ball wide for Ryan Sessegnon in a forward position. James Justin halted a reasonably promising transfer from Tottenham, who beat Dejan Kolciski with a Harry Kane pass on the right.
Tottenham Hotspur – Leicester City go…
1 minute: Leicester get the ball rolling in the last three of the day Premier League Toys.
Not long now: Brendan Rodgers and Antonio Conte lead their teams to White Hart Lane, with players from both teams lined up in the center of the circle. Club legends Emile Heskey and Ledley King laid wreaths in the middle of the pitch before a well-observed minute's silence that was interrupted by some angry shouts from the crowd. This is followed by a performance of the national anthem.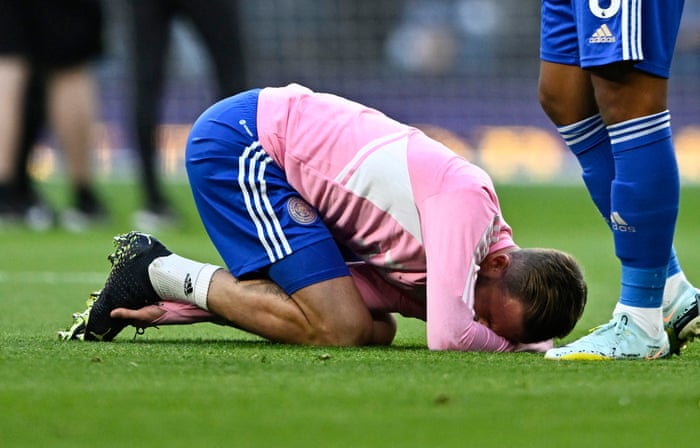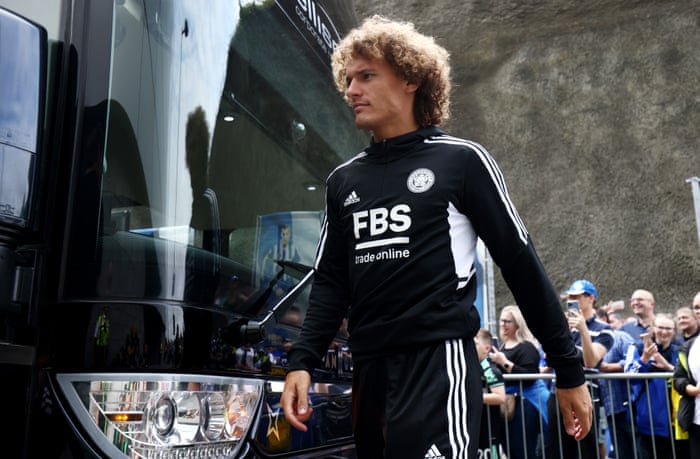 That difference: Son Heung-min has been relegated to the Spurs bench, making way for Dejan Kulusevski in one of four changes to the Spurs squad that began against Sporting in the middle of the week. Ben Davies, Emerson Royal and Christian Romero will also be absent, along with Davinson Sanchez, Clement Lenglet and Ryan Sessegnon.
Brendan Rodgers made three changes to the team that last lost to Brighton. | Belgian defender Wout Faes is making his debut for the club, while Timothy Castaigne and Kiernan Desprey Hall are also starting. Luke Thomas, Popakari Somare and Kelechi Iheanacho all fall off the bench.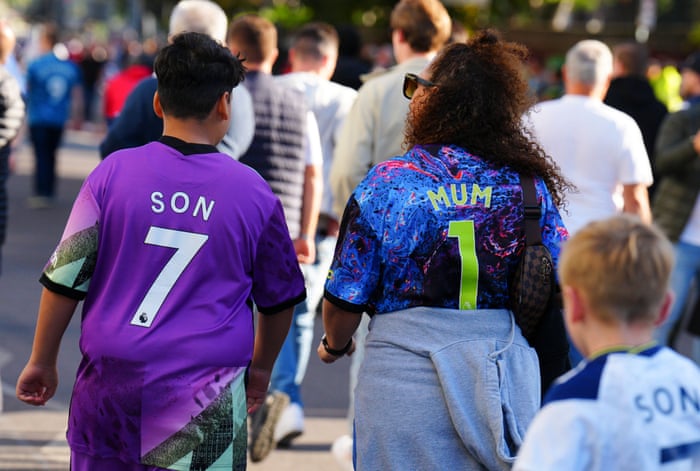 Tottenham Hotspur x Leicester City line-up
Tottenham Hotspur: Lloris, Sanchez, Dier, Lenglet, Perisic, Hojberg, Bentancur, Sessegnon, Kulusevsky, Richarlison, Kane.
Subs: Doherty, Skip, Son, Gil Salvatierra, Emerson, Romero, Forster, Tanganga, Bisoma.
Leicester City: Ward, Castin, Weiss, Evans, Justin, Ndidi, Madison, Tillmans, Dewsbury-Hall, Barnes, Dhaka.
Subs: Vardy, Albrighton, Iheanacho, Perez, Amartey, Bright, Iverson, Thomas, Somare.
Rule: Simon Hooper (Wiltshire)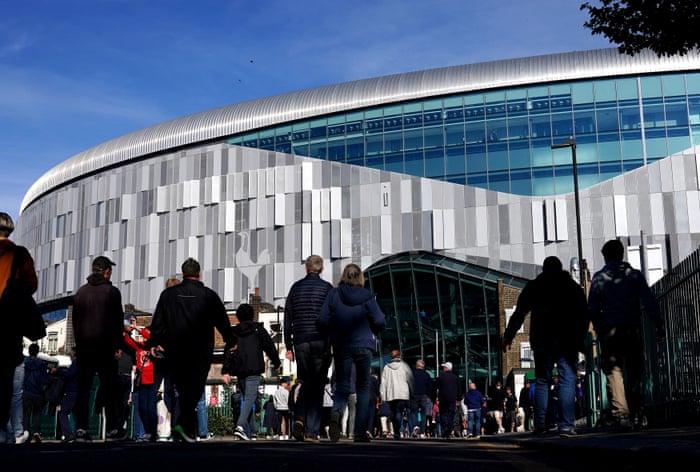 This weekend in the English Premier League: In addition to the raising of flags at half-mast in honor of Queen Elizabeth II, a minute of silence will be observed at White Hart Lane before the national anthem is performed. Wearing black armbands, their managers will lead the players, while the fans will be asked to applaud during the 70th minute.
Lucas Moura appears to be the only one absent from Tottenham due to injury and remains absent due to a tendon injury. While no one likes to see an unhappy Heung Min Son, the clamor over bringing down the erratic South Korean striker in recent games has intensified, but Conte may maintain his confidence in last year's Golden Boot winner, even if it means restricting him. Brilliant Dejan Kulusevski came off the bench once again.
Leicester also have a decent if not shot squad, with long-term absentees Ryan Bertrand and Ricardo Pereira the only absentees. Jamie Vardy, who was left off the bench in his last game against Brighton, is hoping to start ahead of either Batson Dhaka or Kelechi Iheanacho.
English Premier League: Tottenham Hotspur – Leicester City
down the table with only one dot for their name, Leicester City Traveling to White Hart Lane with their manager Brendan Rodgers is under tremendous pressure ahead of the international layoff. His team is facing a Tottenham team that has been very cold this season, even if they achieve positive results, their performance is sometimes not worthy.
With four league victories already this season, Tottenham are the favorites to have seven of their seven undefeated matches this season, but coach Antonio Conte will surely be content with any win other than that. Kick-off starts at 5.30pm (GMT) but in the meantime stay tuned for team news and formation.