An expert finish from Beth Mead has given England a precious lead in the semi-final. They started nervously, with Mary Earps making two good saves and Stina Blackstenius hitting the bar, but grew into the game and ended the half slightly on top. It was a terrific 45 minutes.

","elementId":"1775db0f-d742-48cf-9b16-2b95035b5d1f"}],"attributes":{"pinned":false,"keyEvent":true,"summary":false},"blockCreatedOn":1658864713000,"blockCreatedOnDisplay":"15.45 EDT","blockLastUpdated":1658864770000,"blockLastUpdatedDisplay":"15.46 EDT","blockFirstPublished":1658864771000,"blockFirstPublishedDisplay":"15.46 EDT","blockFirstPublishedDisplayNoTimezone":"15.46″,"title":"Half time: England 1-0 Sweden","contributors":[],"primaryDateLine":"Tue 26 Jul 2022 15.46 EDT","secondaryDateLine":"First published on Tue 26 Jul 2022 13.00 EDT"},{"id":"62e041a28f081e9f3bd20cc7″,"elements":[{"_type":"model.dotcomrendering.pageElements.TextBlockElement","html":"

Beth Mead blasts England into the lead!

","elementId":"c175dc43-97bf-4ab1-a191-5c233c8bfa75″}],"attributes":{"pinned":false,"keyEvent":true,"summary":false},"blockCreatedOn":1658864034000,"blockCreatedOnDisplay":"15.33 EDT","blockLastUpdated":1658864053000,"blockLastUpdatedDisplay":"15.34 EDT","blockFirstPublished":1658864053000,"blockFirstPublishedDisplay":"15.34 EDT","blockFirstPublishedDisplayNoTimezone":"15.34″,"title":"GOAL! England 1-0 Sweden (Mead 34)","contributors":[],"primaryDateLine":"Tue 26 Jul 2022 15.46 EDT","secondaryDateLine":"First published on Tue 26 Jul 2022 13.00 EDT"},{"id":"62e039578f081e9f3bd20c7c","elements":[{"_type":"model.dotcomrendering.pageElements.TextBlockElement","html":"

1 min Peep peep! Georgia Stanway passes the ball to Keira Walsh, and we're away.

","elementId":"f4686526-45e2-47d3-850e-9ae122fbbe36″}],"attributes":{"pinned":false,"keyEvent":true,"summary":false},"blockCreatedOn":1658861911000,"blockCreatedOnDisplay":"14.58 EDT","blockLastUpdated":1658862026000,"blockLastUpdatedDisplay":"15.00 EDT","blockFirstPublished":1658862026000,"blockFirstPublishedDisplay":"15.00 EDT","blockFirstPublishedDisplayNoTimezone":"15.00″,"title":"The first Euro 2022 semi-final is under way!","contributors":[],"primaryDateLine":"Tue 26 Jul 2022 15.46 EDT","secondaryDateLine":"First published on Tue 26 Jul 2022 13.00 EDT"},{"id":"62e028538f08127940905d16″,"elements":[{"_type":"model.dotcomrendering.pageElements.TextBlockElement","html":"

England (4-1-4-1) Earps; Bronze, Bright, Williamson, Daly; Walsh; Mead, Stanway, Kirby, Hemp; White.
Substitutes: Hampton, Roebuck, Greenwood, Carter, Stokes, Scott, Parris, Kelly, England, Toone, Wubben-Moy, Russo.

","elementId":"049248c8-9840-4b12-be84-121592ed9382″},{"_type":"model.dotcomrendering.pageElements.TextBlockElement","html":"

Sweden (4-2-3-1) Lindahl; Ilestedt, Sembrant, Eriksson, Glas; Angeldal, Bjorn; Jakobsson, Asllani, Rolfo; Blackstenius.
Substitutes: Falk, Musovic, Andersson, Nilden, Kullberg, Hurtig, Blomqvist, Seger, Rytting Kaneryd, Bennison.

","elementId":"fc387da8-52b1-4eda-9dbc-35cdb7f016a6″},{"_type":"model.dotcomrendering.pageElements.TextBlockElement","html":"

Referee Esther Staubli (Switzerland).

","elementId":"9ee9342a-0f78-430c-9087-9e0d6f880c28″},{"_type":"model.dotcomrendering.pageElements.ImageBlockElement","media":{"allImages":[{"index":0,"fields":{"height":"1998″,"width":"3000″},"mediaType":"Image","mimeType":"image/jpeg","url":"https://media.guim.co.uk/b21172e74b55a4cfc43f003e6038f27604e8ab0e/0_0_3000_1998/3000.jpg"},{"index":1,"fields":{"isMaster":"true","height":"1998″,"width":"3000″},"mediaType":"Image","mimeType":"image/jpeg","url":"https://media.guim.co.uk/b21172e74b55a4cfc43f003e6038f27604e8ab0e/0_0_3000_1998/master/3000.jpg"},{"index":2,"fields":{"height":"1332″,"width":"2000″},"mediaType":"Image","mimeType":"image/jpeg","url":"https://media.guim.co.uk/b21172e74b55a4cfc43f003e6038f27604e8ab0e/0_0_3000_1998/2000.jpg"},{"index":3,"fields":{"height":"666″,"width":"1000″},"mediaType":"Image","mimeType":"image/jpeg","url":"https://media.guim.co.uk/b21172e74b55a4cfc43f003e6038f27604e8ab0e/0_0_3000_1998/1000.jpg"},{"index":4,"fields":{"height":"333″,"width":"500″},"mediaType":"Image","mimeType":"image/jpeg","url":"https://media.guim.co.uk/b21172e74b55a4cfc43f003e6038f27604e8ab0e/0_0_3000_1998/500.jpg"},{"index":5,"fields":{"height":"93″,"width":"140″},"mediaType":"Image","mimeType":"image/jpeg","url":"https://media.guim.co.uk/b21172e74b55a4cfc43f003e6038f27604e8ab0e/0_0_3000_1998/140.jpg"}]},"data":{"alt":"Stina Blackstenius warms up with the help of one of the Swedish staff.","caption":"Stina Blackstenius warms up with the help of one of the Swedish staff.","credit":"Photograph: Rui Vieira/AP"},"displayCredit":true,"role":"inline","imageSources":[{"weighting":"inline","srcSet":[{"src":"https://i.guim.co.uk/img/media/b21172e74b55a4cfc43f003e6038f27604e8ab0e/0_0_3000_1998/master/3000.jpg?width=620&quality=85&auto=format&fit=max&s=5b630436303f2af62a4993a9dc3a253b","width":620},{"src":"https://i.guim.co.uk/img/media/b21172e74b55a4cfc43f003e6038f27604e8ab0e/0_0_3000_1998/master/3000.jpg?width=620&quality=45&auto=format&fit=max&dpr=2&s=42e77d694f30b34ba89b0905d4c3fbfe","width":1240},{"src":"https://i.guim.co.uk/img/media/b21172e74b55a4cfc43f003e6038f27604e8ab0e/0_0_3000_1998/master/3000.jpg?width=605&quality=85&auto=format&fit=max&s=57ae6bdd1690e937013c60d9f3e5015a","width":605},{"src":"https://i.guim.co.uk/img/media/b21172e74b55a4cfc43f003e6038f27604e8ab0e/0_0_3000_1998/master/3000.jpg?width=605&quality=45&auto=format&fit=max&dpr=2&s=3ba1999608ec3befc2e325b0aa3c24ee","width":1210},{"src":"https://i.guim.co.uk/img/media/b21172e74b55a4cfc43f003e6038f27604e8ab0e/0_0_3000_1998/master/3000.jpg?width=445&quality=85&auto=format&fit=max&s=ebecb82d317996ee07a431c5fb36744e","width":445},{"src":"https://i.guim.co.uk/img/media/b21172e74b55a4cfc43f003e6038f27604e8ab0e/0_0_3000_1998/master/3000.jpg?width=445&quality=45&auto=format&fit=max&dpr=2&s=744291243398e86e3900b555adfaa484″,"width":890}]},{"weighting":"thumbnail","srcSet":[{"src":"https://i.guim.co.uk/img/media/b21172e74b55a4cfc43f003e6038f27604e8ab0e/0_0_3000_1998/master/3000.jpg?width=140&quality=85&auto=format&fit=max&s=05abad024a747ad532eb36e1aed0c0aa","width":140},{"src":"https://i.guim.co.uk/img/media/b21172e74b55a4cfc43f003e6038f27604e8ab0e/0_0_3000_1998/master/3000.jpg?width=140&quality=45&auto=format&fit=max&dpr=2&s=cce940f22c2aa5b1b5a8bbc2acf6880c","width":280},{"src":"https://i.guim.co.uk/img/media/b21172e74b55a4cfc43f003e6038f27604e8ab0e/0_0_3000_1998/master/3000.jpg?width=120&quality=85&auto=format&fit=max&s=290bd55ff318e7be8cc772da9de41003″,"width":120},{"src":"https://i.guim.co.uk/img/media/b21172e74b55a4cfc43f003e6038f27604e8ab0e/0_0_3000_1998/master/3000.jpg?width=120&quality=45&auto=format&fit=max&dpr=2&s=d18321baab59187cb85ccf71b24816c5″,"width":240}]},{"weighting":"supporting","srcSet":[{"src":"https://i.guim.co.uk/img/media/b21172e74b55a4cfc43f003e6038f27604e8ab0e/0_0_3000_1998/master/3000.jpg?width=380&quality=85&auto=format&fit=max&s=35203c3a21f47be1f72ca1a872e6cb65″,"width":380},{"src":"https://i.guim.co.uk/img/media/b21172e74b55a4cfc43f003e6038f27604e8ab0e/0_0_3000_1998/master/3000.jpg?width=380&quality=45&auto=format&fit=max&dpr=2&s=996856704e15d916552618df808fdc39″,"width":760},{"src":"https://i.guim.co.uk/img/media/b21172e74b55a4cfc43f003e6038f27604e8ab0e/0_0_3000_1998/master/3000.jpg?width=300&quality=85&auto=format&fit=max&s=6782cbafbb96a0ae1d9adac047ed3800″,"width":300},{"src":"https://i.guim.co.uk/img/media/b21172e74b55a4cfc43f003e6038f27604e8ab0e/0_0_3000_1998/master/3000.jpg?width=300&quality=45&auto=format&fit=max&dpr=2&s=5e1804c1f08a6d2527523ea56fc28cf4″,"width":600},{"src":"https://i.guim.co.uk/img/media/b21172e74b55a4cfc43f003e6038f27604e8ab0e/0_0_3000_1998/master/3000.jpg?width=620&quality=85&auto=format&fit=max&s=5b630436303f2af62a4993a9dc3a253b","width":620},{"src":"https://i.guim.co.uk/img/media/b21172e74b55a4cfc43f003e6038f27604e8ab0e/0_0_3000_1998/master/3000.jpg?width=620&quality=45&auto=format&fit=max&dpr=2&s=42e77d694f30b34ba89b0905d4c3fbfe","width":1240},{"src":"https://i.guim.co.uk/img/media/b21172e74b55a4cfc43f003e6038f27604e8ab0e/0_0_3000_1998/master/3000.jpg?width=605&quality=85&auto=format&fit=max&s=57ae6bdd1690e937013c60d9f3e5015a","width":605},{"src":"https://i.guim.co.uk/img/media/b21172e74b55a4cfc43f003e6038f27604e8ab0e/0_0_3000_1998/master/3000.jpg?width=605&quality=45&auto=format&fit=max&dpr=2&s=3ba1999608ec3befc2e325b0aa3c24ee","width":1210},{"src":"https://i.guim.co.uk/img/media/b21172e74b55a4cfc43f003e6038f27604e8ab0e/0_0_3000_1998/master/3000.jpg?width=445&quality=85&auto=format&fit=max&s=ebecb82d317996ee07a431c5fb36744e","width":445},{"src":"https://i.guim.co.uk/img/media/b21172e74b55a4cfc43f003e6038f27604e8ab0e/0_0_3000_1998/master/3000.jpg?width=445&quality=45&auto=format&fit=max&dpr=2&s=744291243398e86e3900b555adfaa484″,"width":890}]},{"weighting":"showcase","srcSet":[{"src":"https://i.guim.co.uk/img/media/b21172e74b55a4cfc43f003e6038f27604e8ab0e/0_0_3000_1998/master/3000.jpg?width=860&quality=85&auto=format&fit=max&s=b92ce7446e56e10eae286fbc77a1e3c8″,"width":860},{"src":"https://i.guim.co.uk/img/media/b21172e74b55a4cfc43f003e6038f27604e8ab0e/0_0_3000_1998/master/3000.jpg?width=860&quality=45&auto=format&fit=max&dpr=2&s=f626b9062a72b599f46f8a5ec4f4e0c3″,"width":1720},{"src":"https://i.guim.co.uk/img/media/b21172e74b55a4cfc43f003e6038f27604e8ab0e/0_0_3000_1998/master/3000.jpg?width=780&quality=85&auto=format&fit=max&s=5fd8f59ada4868d3637ac945f4957210″,"width":780},{"src":"https://i.guim.co.uk/img/media/b21172e74b55a4cfc43f003e6038f27604e8ab0e/0_0_3000_1998/master/3000.jpg?width=780&quality=45&auto=format&fit=max&dpr=2&s=69c612cfb7688a6b371d1497df4486fe","width":1560},{"src":"https://i.guim.co.uk/img/media/b21172e74b55a4cfc43f003e6038f27604e8ab0e/0_0_3000_1998/master/3000.jpg?width=620&quality=85&auto=format&fit=max&s=5b630436303f2af62a4993a9dc3a253b","width":620},{"src":"https://i.guim.co.uk/img/media/b21172e74b55a4cfc43f003e6038f27604e8ab0e/0_0_3000_1998/master/3000.jpg?width=620&quality=45&auto=format&fit=max&dpr=2&s=42e77d694f30b34ba89b0905d4c3fbfe","width":1240},{"src":"https://i.guim.co.uk/img/media/b21172e74b55a4cfc43f003e6038f27604e8ab0e/0_0_3000_1998/master/3000.jpg?width=605&quality=85&auto=format&fit=max&s=57ae6bdd1690e937013c60d9f3e5015a","width":605},{"src":"https://i.guim.co.uk/img/media/b21172e74b55a4cfc43f003e6038f27604e8ab0e/0_0_3000_1998/master/3000.jpg?width=605&quality=45&auto=format&fit=max&dpr=2&s=3ba1999608ec3befc2e325b0aa3c24ee","width":1210},{"src":"https://i.guim.co.uk/img/media/b21172e74b55a4cfc43f003e6038f27604e8ab0e/0_0_3000_1998/master/3000.jpg?width=445&quality=85&auto=format&fit=max&s=ebecb82d317996ee07a431c5fb36744e","width":445},{"src":"https://i.guim.co.uk/img/media/b21172e74b55a4cfc43f003e6038f27604e8ab0e/0_0_3000_1998/master/3000.jpg?width=445&quality=45&auto=format&fit=max&dpr=2&s=744291243398e86e3900b555adfaa484″,"width":890}]},{"weighting":"halfwidth","srcSet":[{"src":"https://i.guim.co.uk/img/media/b21172e74b55a4cfc43f003e6038f27604e8ab0e/0_0_3000_1998/master/3000.jpg?width=620&quality=85&auto=format&fit=max&s=5b630436303f2af62a4993a9dc3a253b","width":620},{"src":"https://i.guim.co.uk/img/media/b21172e74b55a4cfc43f003e6038f27604e8ab0e/0_0_3000_1998/master/3000.jpg?width=620&quality=45&auto=format&fit=max&dpr=2&s=42e77d694f30b34ba89b0905d4c3fbfe","width":1240},{"src":"https://i.guim.co.uk/img/media/b21172e74b55a4cfc43f003e6038f27604e8ab0e/0_0_3000_1998/master/3000.jpg?width=605&quality=85&auto=format&fit=max&s=57ae6bdd1690e937013c60d9f3e5015a","width":605},{"src":"https://i.guim.co.uk/img/media/b21172e74b55a4cfc43f003e6038f27604e8ab0e/0_0_3000_1998/master/3000.jpg?width=605&quality=45&auto=format&fit=max&dpr=2&s=3ba1999608ec3befc2e325b0aa3c24ee","width":1210},{"src":"https://i.guim.co.uk/img/media/b21172e74b55a4cfc43f003e6038f27604e8ab0e/0_0_3000_1998/master/3000.jpg?width=445&quality=85&auto=format&fit=max&s=ebecb82d317996ee07a431c5fb36744e","width":445},{"src":"https://i.guim.co.uk/img/media/b21172e74b55a4cfc43f003e6038f27604e8ab0e/0_0_3000_1998/master/3000.jpg?width=445&quality=45&auto=format&fit=max&dpr=2&s=744291243398e86e3900b555adfaa484″,"width":890}]},{"weighting":"immersive","srcSet":[{"src":"https://i.guim.co.uk/img/media/b21172e74b55a4cfc43f003e6038f27604e8ab0e/0_0_3000_1998/master/3000.jpg?width=1900&quality=85&auto=format&fit=max&s=71adc46341c678f9ace41424405bcced","width":1900},{"src":"https://i.guim.co.uk/img/media/b21172e74b55a4cfc43f003e6038f27604e8ab0e/0_0_3000_1998/master/3000.jpg?width=1900&quality=45&auto=format&fit=max&dpr=2&s=2bced1b004305181920ad3b40470f423″,"width":3800},{"src":"https://i.guim.co.uk/img/media/b21172e74b55a4cfc43f003e6038f27604e8ab0e/0_0_3000_1998/master/3000.jpg?width=1300&quality=85&auto=format&fit=max&s=15cfa21ed0a413ef49096e9175519656″,"width":1300},{"src":"https://i.guim.co.uk/img/media/b21172e74b55a4cfc43f003e6038f27604e8ab0e/0_0_3000_1998/master/3000.jpg?width=1300&quality=45&auto=format&fit=max&dpr=2&s=7ed7a28805b7439639628124170224d5″,"width":2600},{"src":"https://i.guim.co.uk/img/media/b21172e74b55a4cfc43f003e6038f27604e8ab0e/0_0_3000_1998/master/3000.jpg?width=1140&quality=85&auto=format&fit=max&s=3e9412ae918c2a200f4aec2236b7e668″,"width":1140},{"src":"https://i.guim.co.uk/img/media/b21172e74b55a4cfc43f003e6038f27604e8ab0e/0_0_3000_1998/master/3000.jpg?width=1140&quality=45&auto=format&fit=max&dpr=2&s=26890d1fa6488a975976811ebdbf618b","width":2280},{"src":"https://i.guim.co.uk/img/media/b21172e74b55a4cfc43f003e6038f27604e8ab0e/0_0_3000_1998/master/3000.jpg?width=980&quality=85&auto=format&fit=max&s=3beb67e3a2a8b45e800c14341caba993″,"width":980},{"src":"https://i.guim.co.uk/img/media/b21172e74b55a4cfc43f003e6038f27604e8ab0e/0_0_3000_1998/master/3000.jpg?width=980&quality=45&auto=format&fit=max&dpr=2&s=9932a93b406f13b63b3daa51d1514fad","width":1960},{"src":"https://i.guim.co.uk/img/media/b21172e74b55a4cfc43f003e6038f27604e8ab0e/0_0_3000_1998/master/3000.jpg?width=740&quality=85&auto=format&fit=max&s=d461669e71f0ff04c9514ef723dc1d97″,"width":740},{"src":"https://i.guim.co.uk/img/media/b21172e74b55a4cfc43f003e6038f27604e8ab0e/0_0_3000_1998/master/3000.jpg?width=740&quality=45&auto=format&fit=max&dpr=2&s=8fddbb22bc24af3f47c962147a61ded6″,"width":1480},{"src":"https://i.guim.co.uk/img/media/b21172e74b55a4cfc43f003e6038f27604e8ab0e/0_0_3000_1998/master/3000.jpg?width=660&quality=85&auto=format&fit=max&s=6c02547fc08d0a7eb83351bc64d74087″,"width":660},{"src":"https://i.guim.co.uk/img/media/b21172e74b55a4cfc43f003e6038f27604e8ab0e/0_0_3000_1998/master/3000.jpg?width=660&quality=45&auto=format&fit=max&dpr=2&s=caee82e3fac1b0eb9fa775d609119e57″,"width":1320},{"src":"https://i.guim.co.uk/img/media/b21172e74b55a4cfc43f003e6038f27604e8ab0e/0_0_3000_1998/master/3000.jpg?width=480&quality=85&auto=format&fit=max&s=61dffcb50acf605ee09808350fbd7052″,"width":480},{"src":"https://i.guim.co.uk/img/media/b21172e74b55a4cfc43f003e6038f27604e8ab0e/0_0_3000_1998/master/3000.jpg?width=480&quality=45&auto=format&fit=max&dpr=2&s=3ae4f983256d86d09415e9d3cfd362ed","width":960}]}],"elementId":"3e04a18e-a72e-4a68-8cc8-ce42e0325563″}],"attributes":{"pinned":false,"keyEvent":true,"summary":false},"blockCreatedOn":1658857555000,"blockCreatedOnDisplay":"13.45 EDT","blockLastUpdated":1658860689000,"blockLastUpdatedDisplay":"14.38 EDT","blockFirstPublished":1658857894000,"blockFirstPublishedDisplay":"13.51 EDT","blockFirstPublishedDisplayNoTimezone":"13.51″,"title":"The teams in full","contributors":[],"primaryDateLine":"Tue 26 Jul 2022 15.46 EDT","secondaryDateLine":"First published on Tue 26 Jul 2022 13.00 EDT"},{"id":"62e027ba8f08127940905d13″,"elements":[{"_type":"model.dotcomrendering.pageElements.TextBlockElement","html":"

All that flapping of gums about Alex Greenwood and Ella Toone was a waste of time: Sarina Wiegman has named the same XI that has started every game in this tournament.

","elementId":"80116692-8542-433d-a6ac-73f57cefeaa0″},{"_type":"model.dotcomrendering.pageElements.TextBlockElement","html":"

Sweden two changes from the side that beat Belgium on Friday. Sofia Jakobsson replaces Johanna Rytting Kaneryd on the right wing, and Hanna Glas, available after contracting Covid, is in for Amanda Nilden. The captain Caroline Seger and Jonna Andersson are fit enough for the bench.

","elementId":"ef4ef1c4-87db-4340-9187-74d937db1026″},{"_type":"model.dotcomrendering.pageElements.ImageBlockElement","media":{"allImages":[{"index":0,"fields":{"height":"3474″,"width":"5212″},"mediaType":"Image","mimeType":"image/jpeg","url":"https://media.guim.co.uk/15c388b281e787323bab70f4fe30a8b85ef811d2/0_0_5212_3474/5212.jpg"},{"index":1,"fields":{"isMaster":"true","height":"3474″,"width":"5212″},"mediaType":"Image","mimeType":"image/jpeg","url":"https://media.guim.co.uk/15c388b281e787323bab70f4fe30a8b85ef811d2/0_0_5212_3474/master/5212.jpg"},{"index":2,"fields":{"height":"1333″,"width":"2000″},"mediaType":"Image","mimeType":"image/jpeg","url":"https://media.guim.co.uk/15c388b281e787323bab70f4fe30a8b85ef811d2/0_0_5212_3474/2000.jpg"},{"index":3,"fields":{"height":"667″,"width":"1000″},"mediaType":"Image","mimeType":"image/jpeg","url":"https://media.guim.co.uk/15c388b281e787323bab70f4fe30a8b85ef811d2/0_0_5212_3474/1000.jpg"},{"index":4,"fields":{"height":"333″,"width":"500″},"mediaType":"Image","mimeType":"image/jpeg","url":"https://media.guim.co.uk/15c388b281e787323bab70f4fe30a8b85ef811d2/0_0_5212_3474/500.jpg"},{"index":5,"fields":{"height":"93″,"width":"140″},"mediaType":"Image","mimeType":"image/jpeg","url":"https://media.guim.co.uk/15c388b281e787323bab70f4fe30a8b85ef811d2/0_0_5212_3474/140.jpg"}]},"data":{"alt":"England fans welcome their team as their coach pulls into Bramall Lane.","caption":"England fans greet their team as their coach pulls into Bramall Lane.","credit":"Photograph: Catherine Ivill/UEFA/Getty Images"},"displayCredit":true,"role":"inline","imageSources":[{"weighting":"inline","srcSet":[{"src":"https://i.guim.co.uk/img/media/15c388b281e787323bab70f4fe30a8b85ef811d2/0_0_5212_3474/master/5212.jpg?width=620&quality=85&auto=format&fit=max&s=7aac1746a53670d6a5f1b324a141f8e9″,"width":620},{"src":"https://i.guim.co.uk/img/media/15c388b281e787323bab70f4fe30a8b85ef811d2/0_0_5212_3474/master/5212.jpg?width=620&quality=45&auto=format&fit=max&dpr=2&s=acef125d38bacca0a9299954b6cc457a","width":1240},{"src":"https://i.guim.co.uk/img/media/15c388b281e787323bab70f4fe30a8b85ef811d2/0_0_5212_3474/master/5212.jpg?width=605&quality=85&auto=format&fit=max&s=ef31124b2d6e873a59292e949d0f0b21″,"width":605},{"src":"https://i.guim.co.uk/img/media/15c388b281e787323bab70f4fe30a8b85ef811d2/0_0_5212_3474/master/5212.jpg?width=605&quality=45&auto=format&fit=max&dpr=2&s=086b71ebbff99d2ef3ba804a18d2979b","width":1210},{"src":"https://i.guim.co.uk/img/media/15c388b281e787323bab70f4fe30a8b85ef811d2/0_0_5212_3474/master/5212.jpg?width=445&quality=85&auto=format&fit=max&s=f3a755857fc0bd7d3c87483642501f47″,"width":445},{"src":"https://i.guim.co.uk/img/media/15c388b281e787323bab70f4fe30a8b85ef811d2/0_0_5212_3474/master/5212.jpg?width=445&quality=45&auto=format&fit=max&dpr=2&s=39dbdf3e2633ec6498fe35510b9df23c","width":890}]},{"weighting":"thumbnail","srcSet":[{"src":"https://i.guim.co.uk/img/media/15c388b281e787323bab70f4fe30a8b85ef811d2/0_0_5212_3474/master/5212.jpg?width=140&quality=85&auto=format&fit=max&s=bbd6b5889b333342fcd331322a551ef4″,"width":140},{"src":"https://i.guim.co.uk/img/media/15c388b281e787323bab70f4fe30a8b85ef811d2/0_0_5212_3474/master/5212.jpg?width=140&quality=45&auto=format&fit=max&dpr=2&s=edfb127455b0968df850eebe7965f85a","width":280},{"src":"https://i.guim.co.uk/img/media/15c388b281e787323bab70f4fe30a8b85ef811d2/0_0_5212_3474/master/5212.jpg?width=120&quality=85&auto=format&fit=max&s=cccfed71a52285eeaf849cb7da998877″,"width":120},{"src":"https://i.guim.co.uk/img/media/15c388b281e787323bab70f4fe30a8b85ef811d2/0_0_5212_3474/master/5212.jpg?width=120&quality=45&auto=format&fit=max&dpr=2&s=93c7ee527b3ca7277a8785c762de6ac8″,"width":240}]},{"weighting":"supporting","srcSet":[{"src":"https://i.guim.co.uk/img/media/15c388b281e787323bab70f4fe30a8b85ef811d2/0_0_5212_3474/master/5212.jpg?width=380&quality=85&auto=format&fit=max&s=3f2d739af42fc1462df496d967597afc","width":380},{"src":"https://i.guim.co.uk/img/media/15c388b281e787323bab70f4fe30a8b85ef811d2/0_0_5212_3474/master/5212.jpg?width=380&quality=45&auto=format&fit=max&dpr=2&s=0dac610ee0c5216ff39ab6347bb8b81f","width":760},{"src":"https://i.guim.co.uk/img/media/15c388b281e787323bab70f4fe30a8b85ef811d2/0_0_5212_3474/master/5212.jpg?width=300&quality=85&auto=format&fit=max&s=cb95e5ffffb884881e6418b566a7baff","width":300},{"src":"https://i.guim.co.uk/img/media/15c388b281e787323bab70f4fe30a8b85ef811d2/0_0_5212_3474/master/5212.jpg?width=300&quality=45&auto=format&fit=max&dpr=2&s=e8cf015d1dacc5780dafd31fce0ea4a3″,"width":600},{"src":"https://i.guim.co.uk/img/media/15c388b281e787323bab70f4fe30a8b85ef811d2/0_0_5212_3474/master/5212.jpg?width=620&quality=85&auto=format&fit=max&s=7aac1746a53670d6a5f1b324a141f8e9″,"width":620},{"src":"https://i.guim.co.uk/img/media/15c388b281e787323bab70f4fe30a8b85ef811d2/0_0_5212_3474/master/5212.jpg?width=620&quality=45&auto=format&fit=max&dpr=2&s=acef125d38bacca0a9299954b6cc457a","width":1240},{"src":"https://i.guim.co.uk/img/media/15c388b281e787323bab70f4fe30a8b85ef811d2/0_0_5212_3474/master/5212.jpg?width=605&quality=85&auto=format&fit=max&s=ef31124b2d6e873a59292e949d0f0b21″,"width":605},{"src":"https://i.guim.co.uk/img/media/15c388b281e787323bab70f4fe30a8b85ef811d2/0_0_5212_3474/master/5212.jpg?width=605&quality=45&auto=format&fit=max&dpr=2&s=086b71ebbff99d2ef3ba804a18d2979b","width":1210},{"src":"https://i.guim.co.uk/img/media/15c388b281e787323bab70f4fe30a8b85ef811d2/0_0_5212_3474/master/5212.jpg?width=445&quality=85&auto=format&fit=max&s=f3a755857fc0bd7d3c87483642501f47″,"width":445},{"src":"https://i.guim.co.uk/img/media/15c388b281e787323bab70f4fe30a8b85ef811d2/0_0_5212_3474/master/5212.jpg?width=445&quality=45&auto=format&fit=max&dpr=2&s=39dbdf3e2633ec6498fe35510b9df23c","width":890}]},{"weighting":"showcase","srcSet":[{"src":"https://i.guim.co.uk/img/media/15c388b281e787323bab70f4fe30a8b85ef811d2/0_0_5212_3474/master/5212.jpg?width=860&quality=85&auto=format&fit=max&s=c4e4d6cedea3e5f504fb5c0e7c78a635″,"width":860},{"src":"https://i.guim.co.uk/img/media/15c388b281e787323bab70f4fe30a8b85ef811d2/0_0_5212_3474/master/5212.jpg?width=860&quality=45&auto=format&fit=max&dpr=2&s=b24ab2b394a67e2c87291de3d2e40279″,"width":1720},{"src":"https://i.guim.co.uk/img/media/15c388b281e787323bab70f4fe30a8b85ef811d2/0_0_5212_3474/master/5212.jpg?width=780&quality=85&auto=format&fit=max&s=03fdb727c8a9ea5a9013217d67c1c3cc","width":780},{"src":"https://i.guim.co.uk/img/media/15c388b281e787323bab70f4fe30a8b85ef811d2/0_0_5212_3474/master/5212.jpg?width=780&quality=45&auto=format&fit=max&dpr=2&s=47179bd9fa680272737e87044a894ef6″,"width":1560},{"src":"https://i.guim.co.uk/img/media/15c388b281e787323bab70f4fe30a8b85ef811d2/0_0_5212_3474/master/5212.jpg?width=620&quality=85&auto=format&fit=max&s=7aac1746a53670d6a5f1b324a141f8e9″,"width":620},{"src":"https://i.guim.co.uk/img/media/15c388b281e787323bab70f4fe30a8b85ef811d2/0_0_5212_3474/master/5212.jpg?width=620&quality=45&auto=format&fit=max&dpr=2&s=acef125d38bacca0a9299954b6cc457a","width":1240},{"src":"https://i.guim.co.uk/img/media/15c388b281e787323bab70f4fe30a8b85ef811d2/0_0_5212_3474/master/5212.jpg?width=605&quality=85&auto=format&fit=max&s=ef31124b2d6e873a59292e949d0f0b21″,"width":605},{"src":"https://i.guim.co.uk/img/media/15c388b281e787323bab70f4fe30a8b85ef811d2/0_0_5212_3474/master/5212.jpg?width=605&quality=45&auto=format&fit=max&dpr=2&s=086b71ebbff99d2ef3ba804a18d2979b","width":1210},{"src":"https://i.guim.co.uk/img/media/15c388b281e787323bab70f4fe30a8b85ef811d2/0_0_5212_3474/master/5212.jpg?width=445&quality=85&auto=format&fit=max&s=f3a755857fc0bd7d3c87483642501f47″,"width":445},{"src":"https://i.guim.co.uk/img/media/15c388b281e787323bab70f4fe30a8b85ef811d2/0_0_5212_3474/master/5212.jpg?width=445&quality=45&auto=format&fit=max&dpr=2&s=39dbdf3e2633ec6498fe35510b9df23c","width":890}]},{"weighting":"halfwidth","srcSet":[{"src":"https://i.guim.co.uk/img/media/15c388b281e787323bab70f4fe30a8b85ef811d2/0_0_5212_3474/master/5212.jpg?width=620&quality=85&auto=format&fit=max&s=7aac1746a53670d6a5f1b324a141f8e9″,"width":620},{"src":"https://i.guim.co.uk/img/media/15c388b281e787323bab70f4fe30a8b85ef811d2/0_0_5212_3474/master/5212.jpg?width=620&quality=45&auto=format&fit=max&dpr=2&s=acef125d38bacca0a9299954b6cc457a","width":1240},{"src":"https://i.guim.co.uk/img/media/15c388b281e787323bab70f4fe30a8b85ef811d2/0_0_5212_3474/master/5212.jpg?width=605&quality=85&auto=format&fit=max&s=ef31124b2d6e873a59292e949d0f0b21″,"width":605},{"src":"https://i.guim.co.uk/img/media/15c388b281e787323bab70f4fe30a8b85ef811d2/0_0_5212_3474/master/5212.jpg?width=605&quality=45&auto=format&fit=max&dpr=2&s=086b71ebbff99d2ef3ba804a18d2979b","width":1210},{"src":"https://i.guim.co.uk/img/media/15c388b281e787323bab70f4fe30a8b85ef811d2/0_0_5212_3474/master/5212.jpg?width=445&quality=85&auto=format&fit=max&s=f3a755857fc0bd7d3c87483642501f47″,"width":445},{"src":"https://i.guim.co.uk/img/media/15c388b281e787323bab70f4fe30a8b85ef811d2/0_0_5212_3474/master/5212.jpg?width=445&quality=45&auto=format&fit=max&dpr=2&s=39dbdf3e2633ec6498fe35510b9df23c","width":890}]},{"weighting":"immersive","srcSet":[{"src":"https://i.guim.co.uk/img/media/15c388b281e787323bab70f4fe30a8b85ef811d2/0_0_5212_3474/master/5212.jpg?width=1900&quality=85&auto=format&fit=max&s=fe114316320d99033cbf20396267ac88″,"width":1900},{"src":"https://i.guim.co.uk/img/media/15c388b281e787323bab70f4fe30a8b85ef811d2/0_0_5212_3474/master/5212.jpg?width=1900&quality=45&auto=format&fit=max&dpr=2&s=f965e33778092f76f99fba430756e25e","width":3800},{"src":"https://i.guim.co.uk/img/media/15c388b281e787323bab70f4fe30a8b85ef811d2/0_0_5212_3474/master/5212.jpg?width=1300&quality=85&auto=format&fit=max&s=970e9ce0def0a7d0d36dea6636529730″,"width":1300},{"src":"https://i.guim.co.uk/img/media/15c388b281e787323bab70f4fe30a8b85ef811d2/0_0_5212_3474/master/5212.jpg?width=1300&quality=45&auto=format&fit=max&dpr=2&s=72e74876c9f3fc4b7cf58d86d53a9967″,"width":2600},{"src":"https://i.guim.co.uk/img/media/15c388b281e787323bab70f4fe30a8b85ef811d2/0_0_5212_3474/master/5212.jpg?width=1140&quality=85&auto=format&fit=max&s=0d8c941e71735b472658683d81098076″,"width":1140},{"src":"https://i.guim.co.uk/img/media/15c388b281e787323bab70f4fe30a8b85ef811d2/0_0_5212_3474/master/5212.jpg?width=1140&quality=45&auto=format&fit=max&dpr=2&s=d6cc71de8bb7c812e50b848bc86b8e63″,"width":2280},{"src":"https://i.guim.co.uk/img/media/15c388b281e787323bab70f4fe30a8b85ef811d2/0_0_5212_3474/master/5212.jpg?width=980&quality=85&auto=format&fit=max&s=92587d965b41f406e445d79f3d11d64c","width":980},{"src":"https://i.guim.co.uk/img/media/15c388b281e787323bab70f4fe30a8b85ef811d2/0_0_5212_3474/master/5212.jpg?width=980&quality=45&auto=format&fit=max&dpr=2&s=137a1902ff642fdd344070806b43a28b","width":1960},{"src":"https://i.guim.co.uk/img/media/15c388b281e787323bab70f4fe30a8b85ef811d2/0_0_5212_3474/master/5212.jpg?width=740&quality=85&auto=format&fit=max&s=869f1246d52990891e33c8163893d194″,"width":740},{"src":"https://i.guim.co.uk/img/media/15c388b281e787323bab70f4fe30a8b85ef811d2/0_0_5212_3474/master/5212.jpg?width=740&quality=45&auto=format&fit=max&dpr=2&s=e55532d523d6330719c692297cc9710e","width":1480},{"src":"https://i.guim.co.uk/img/media/15c388b281e787323bab70f4fe30a8b85ef811d2/0_0_5212_3474/master/5212.jpg?width=660&quality=85&auto=format&fit=max&s=04fa74a3a26d8215f6b9ffbcf9f82d38″,"width":660},{"src":"https://i.guim.co.uk/img/media/15c388b281e787323bab70f4fe30a8b85ef811d2/0_0_5212_3474/master/5212.jpg?width=660&quality=45&auto=format&fit=max&dpr=2&s=7c8b9b12f78643ae8e02e154a778fb34″,"width":1320},{"src":"https://i.guim.co.uk/img/media/15c388b281e787323bab70f4fe30a8b85ef811d2/0_0_5212_3474/master/5212.jpg?width=480&quality=85&auto=format&fit=max&s=39e21770a7d15c6603ffa2d1dfc124e4″,"width":480},{"src":"https://i.guim.co.uk/img/media/15c388b281e787323bab70f4fe30a8b85ef811d2/0_0_5212_3474/master/5212.jpg?width=480&quality=45&auto=format&fit=max&dpr=2&s=90b1d200bb1291ca11050055a8fbde9c","width":960}]}],"elementId":"291357dd-1322-47b5-a3e6-ac15ab45ef73″}],"attributes":{"pinned":false,"keyEvent":true,"summary":false},"blockCreatedOn":1658857402000,"blockCreatedOnDisplay":"13.43 EDT","blockLastUpdated":1658858908000,"blockLastUpdatedDisplay":"14.08 EDT","blockFirstPublished":1658857467000,"blockFirstPublishedDisplay":"13.44 EDT","blockFirstPublishedDisplayNoTimezone":"13.44″,"title":"Team news: England unchanged","contributors":[],"primaryDateLine":"Tue 26 Jul 2022 15.46 EDT","secondaryDateLine":"First published on Tue 26 Jul 2022 13.00 EDT"},{"id":"62dfe9428f08127940905a0b","elements":[{"_type":"model.dotcomrendering.pageElements.TextBlockElement","html":"

Hello and welcome to live coverage of – aaaaaaaaaaaaaaaaagh! – England v Sweden in the Euro 2022 semi-finals. Look, it doesn't roll off the tongue, it wouldn't look great on a movie poster and it might even be an oxymoron, but England are once again approaching the penultimate frontier. After three consecutive semi-final defeats, all involving different types and degrees of heartbreak, they have another chance to reach their first major final since 2009.

","elementId":"f8ae67ff-ad57-444d-aef5-c6d34cabbd2a"},{"_type":"model.dotcomrendering.pageElements.TextBlockElement","html":"

This time it's in their home tournament, which means everything is heightened: hope, the fear, excitement, goodwill, pressure, expectation, giddiness. Some people are already looking ahead to Sunday's final, and the chance of becoming the first England Women's team to win a major tournament. But forget everything you've read about destiny, or Sweden's performances, or Beth Mead's flammability: this game is as near as dammit to 50/50.

","elementId":"e0634f11-ac01-42fc-a57c-fbd4c6871275″},{"_type":"model.dotcomrendering.pageElements.TextBlockElement","html":"

Sweden are a fantastic side, second in the world rankings – and in last year's Olympics, when they lost on penalties to Canada in the final. The last time England hosted the European Championship, back in 2005, they were knocked out in the group stages by, you betcha, Sweden.

","elementId":"b763914f-2b0d-4de1-853a-548cd7a34447″},{"_type":"model.dotcomrendering.pageElements.TextBlockElement","html":"

The winners of tonight's game will play France or Germany at Wembley on Sunday. The losers will spend their summer holiday trying to escape one of life's most haunting questions: what if?

","elementId":"c4791604-a571-41db-9962-fb32c38da14d"},{"_type":"model.dotcomrendering.pageElements.TextBlockElement","html":"

Kick off 8pm.

","elementId":"0222e63b-a444-4def-8477-5243c60f778a"},{"_type":"model.dotcomrendering.pageElements.TweetBlockElement","html":"
The calm before the storm. 🏟 pic.twitter.com/gOgJm22HZ4

— Lionesses (@Lionesses) July 26, 2022
n","url":"https://twitter.com/Lionesses/status/1551970072117264384?ref_src=twsrc%5Egoogle%7Ctwcamp%5Eserp%7Ctwgr%5Etweet","id":"1551970072117264384″,"hasMedia":false,"role":"inline","isThirdPartyTracking":false,"source":"Twitter","elementId":"83495741-76ff-4d13-8cbc-0f951601c499″}],"attributes":{"pinned":false,"keyEvent":true,"summary":false},"blockCreatedOn":1658854803000,"blockCreatedOnDisplay":"13.00 EDT","blockLastUpdated":1658856942000,"blockLastUpdatedDisplay":"13.35 EDT","blockFirstPublished":1658854803000,"blockFirstPublishedDisplay":"13.00 EDT","blockFirstPublishedDisplayNoTimezone":"13.00″,"title":"Preamble","contributors":[],"primaryDateLine":"Tue 26 Jul 2022 15.46 EDT","secondaryDateLine":"First published on Tue 26 Jul 2022 13.00 EDT"}],"filterKeyEvents":false,"format":{"display":0,"theme":2,"design":9},"id":"key-events-carousel-mobile"}">
main events
First half: England 1-0 Sweden
The professional finish from Beth Mead gave England a valuable lead in the semi-finals. They started nervously, with Marie Earps hitting the ball twice and Stena Blacksteinius hitting the crossbar, but they developed into the game and ended the game a little ahead. It was a great 45 minutes.
44 minutes Kirby, who was more influential than he was against Spain, swerves away from Engeldale but curls up nicely from 25 yards.
44 minutes "One commenter on the feed I'm just watching said that Sweden's only euro title came in 1984," says Peter Oh. "If they don't find a tie soon, things might get miserable for them in a hurry."
43 minutes This first half has flown by.
42 minutes Rulfo's deep header cross was tackled through the goal by Jacobson, but it was merely an attempt to keep the ball in play and collected by Earps.
41 minutes A nice click from White finds Kirby, who speeds up the ball to Mead. Running waits for White and passes the ball through, but White follows well and runs the ball out of play.
39 minutes Stanway smashes from a distance. This is England's best mantra so far, sparked by this wonderful goal from Beth Mead. The first touch was really pure, and the second touch wasn't scornful either.
38 minutes Almost another chance for England! Kirby makes a good pass to find Stanway on the right side of the area, and her low cross towards white was cut well by Sembrandt (I think) at the near post.
36 minutes Now Beth Meade leads Alexandra Pope by two points in the race for the Golden Boot.
It is her sixth goal in the tournament, And much bigger. She let go of the white hemp cross in the middle, but Bronze kept the ball alive and turned it back toward Meade. She masterfully controlled it, turning and hitting the bouncing ball through the diver's hand Lindahl. That was an upscale clinical end, and it brought the house down.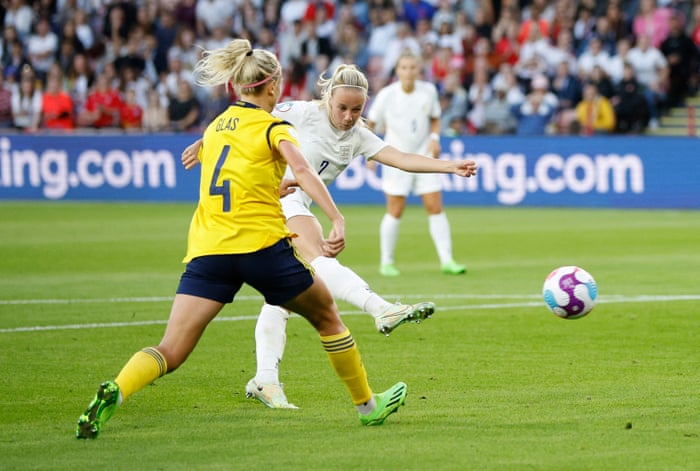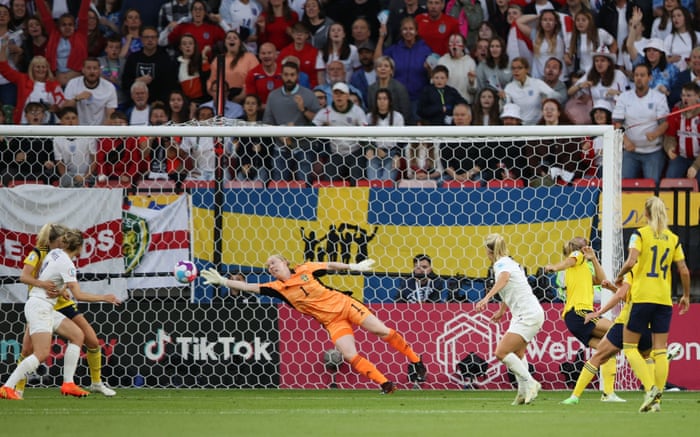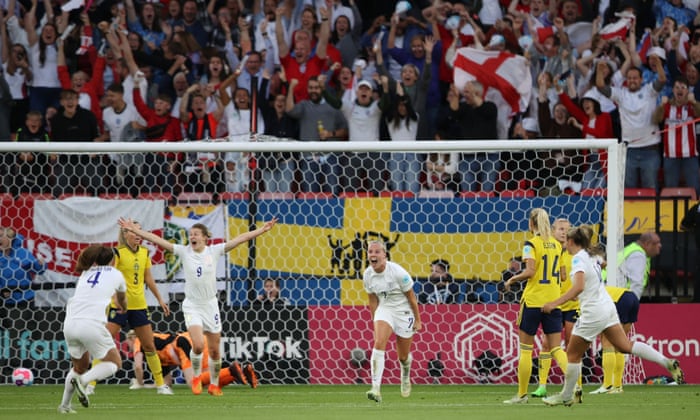 Goal! England 1-0 Sweden (Med 34)
Beth Mead explode England in the lead!
33 minutes Angeldal was fouled on the right wing by White. Free kick from Aslani headed by Dali.
32 minutes Jakobson's cross was quietly blocked at the near post by Williamson, and it's a great defensive piece.
29 minutes Hemp, England's best striker to date, runs into Ilestedt to win a corner. Meade wraps it deep into the bronze, which heads back across the goal and wide. I think she was trying to put her in a dangerous area (which she did) instead of going to the target.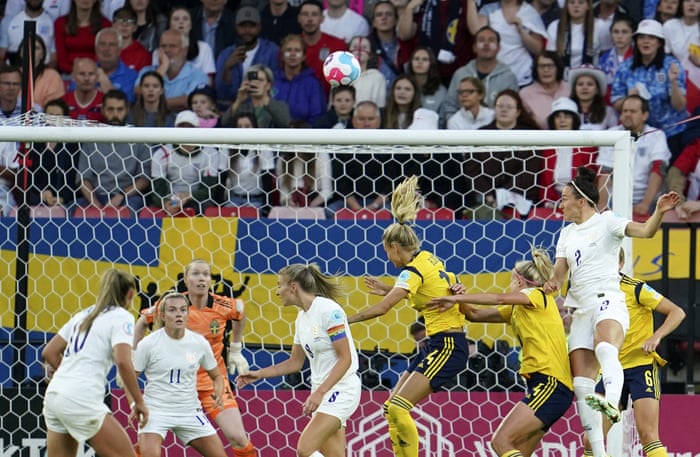 27 minutes Two quiet minutes, the first such period in the match.
24 minutes Kirby makes an excellent sliding challenge in her zone to prevent Engeldahl from running into Jacobson's pieces.
23 minutes Hemp rushes into the area and finds Stanway just outside the area. It saves a little room for a left-footed shot but draws it just right for Lindahl.
21 minutes Hemp slips a low cross to White near the penalty spot, but Eriksson ensures she doesn't shoot clearly on goal and dribble the ball to Lindahl.
20 minutes Meade wins the ball from Glass to start against England. In the end, Hemp returned the ball to Mead, whose 15-yard volley was blocked. Mead demands hand touch but I don't think there was anything in it.
18 minutes The influential Aslani wins the first corner of Sweden. She takes it by herself, and moves it in another nearby direction. Erickson nodded, I think, and Daly shot him a little hopelessly. England haven't been hanging defensively, but they're not comfortable.
17 minutes Stanway saved Bjorn's long-range shot. Then Walsh does a good job of tracking Aslani and winning a throw-in for England.
16 minutes Meade's corner is shot at the invisible white and drifts behind it to the goalkeeper.
15 minutes A dangerous cross pass by Meade headed Ericsson into the first corner of England…
14 minutes Bronze loses the ball in a dangerous area to Rulfo, who shoots in the England zone and then shoots wide from a narrow angle.
13 minutes This is Sofia Jacobson's chance after 20 seconds of the match.
12 minutes A very ambitious effort from Stanway (and why not) is going well.
11 minutes England started well in possession, with Hemp looking particularly lively, but then seeming vulnerable on the counter-attack.
10 minutes Cannabis rushes away from Bjorn, who ironically pulls her back. No yellow card, which is a very strange refereeing thing.
9 min: Blackstein hits the crossbar! The resulting corner is curled into the six-yard square, Earps misses her punch and Blackstenius heads against the bar. Dear, what a start.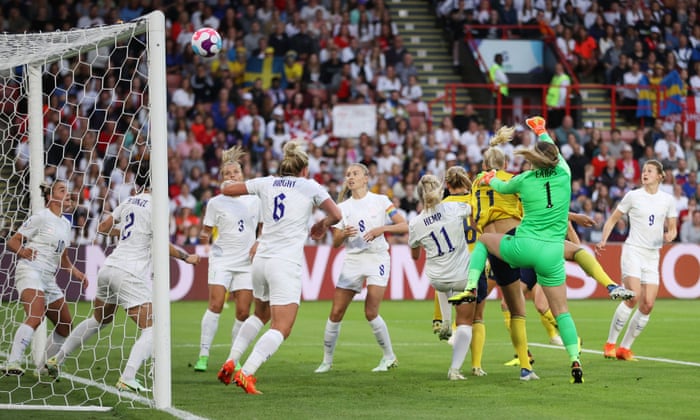 8 Minutes: Another Earps Rescue! Sweden looked very dangerous at the end of the first half. Aslani directs a beautiful pass to Blackstenius, who pulls between Bright and Bronze to run on goal. She misses her shot in the ground, but looks like she's still ready to sneak into the net until Earps drops to her lower left to push her away.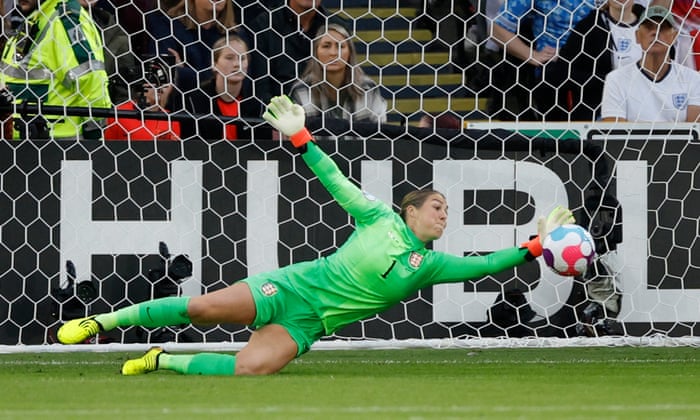 7 minutes This is more like the last ten minutes than the first, as is the pace and intensity of the game. It was a great start.
5 minutes: a chance to med! Fran Kirby, 50 yards from the goal on the left, drives a ball with a superb angle over Sweden's defense. Mead defers from Glass but heads completely off center near eight yards. This was a good opportunity, although the ball went a long way, so it wasn't the easiest vertical way.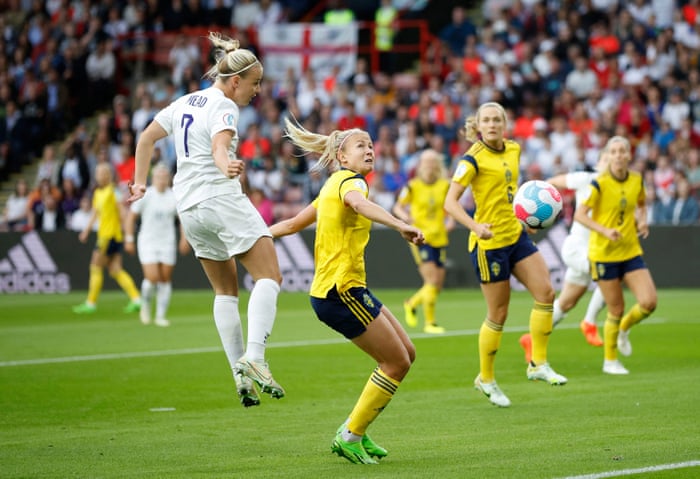 4 minutes It was an open start to the game, with both teams looking sparkling and breezy in possession.